The MassCEC WTTC offers a full suite of certification tests for turbine blades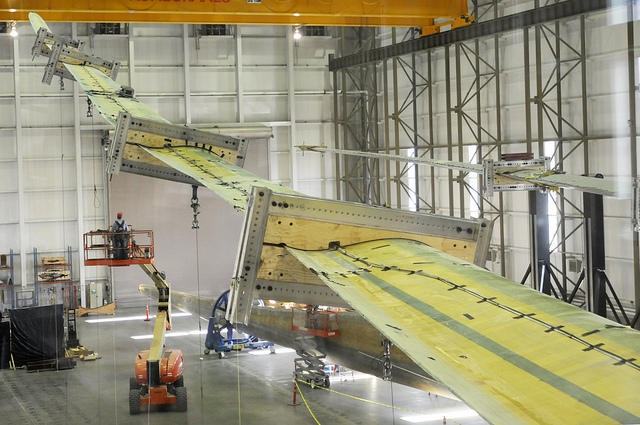 Why Test Turbine Blades?
Wind turbine blade testing is a critical factor in maintaining high levels of reliability and evaluating the latest technological developments in airfoils and materials. Blade testing is required as part of turbine certification to meet international design standards including IEC, GL and DNV. Meeting international standards allows developers to mitigate the technical and financial risk of deploying mass-produced wind turbines.
Get an inside view with this video!
WTTC Experience
Since opening in 2011, Wind Technology Testing Center (WTTC) has run 35 distinct blade testing programs entailing hundreds of individual blade tests. WTTC is an ISO/IEC 17025 accredited Laboratory and a RETL (Renewable Energy Testing Laboratory) per the IECRE rules and procedures to test wind turbine blades. The WTTC's technical team includes experienced blade test engineers and technicians. WTTC is innovating and constantly improving testing methods to better represent field operations in the lab and to improve testing efficiency for wind industry partners.
Partnerships
Turbine manufacturers
General Electric
Siemens-Gamesa
Vestas
Blade manufacturers
LM Windpower
Blade Dynamics
Researchers
Renewable Energy Laboratory (NREL)
Sandia National Labs
UMass
Georgia Tech
CCNY 
Blade Testing at WTTC
WTTC offers the latest wind turbine blade testing and prototype development methodologies to help the wind industry deploy the next generation of offshore and land-based wind turbine technologies.
Full suite of multi-axis static and fatigue tests per IEC61400-23 standard, representing 20 years of field operation for the blades
Three test stands and 100-ton overhead bridge crane capacity
Blade material testing
Prototype development and blade repair capabilities
Research and development partnerships
Hands-on workforce training
Strong commitment to client intellectual property protection
Located on a deepwater port to accept all blade sizes
Touring WTTC
MassCEC offers tours of the WTTC by appointment only.  Contact us to arrange a tour for your group!
Phone: 617-315-9300, Option 5
Email: WTTCTours@masscec.com

Directions to the WTTC
All visitors; to the WTTC must sign a Facility Tour Confidentiality and Release of Liability Agreement.