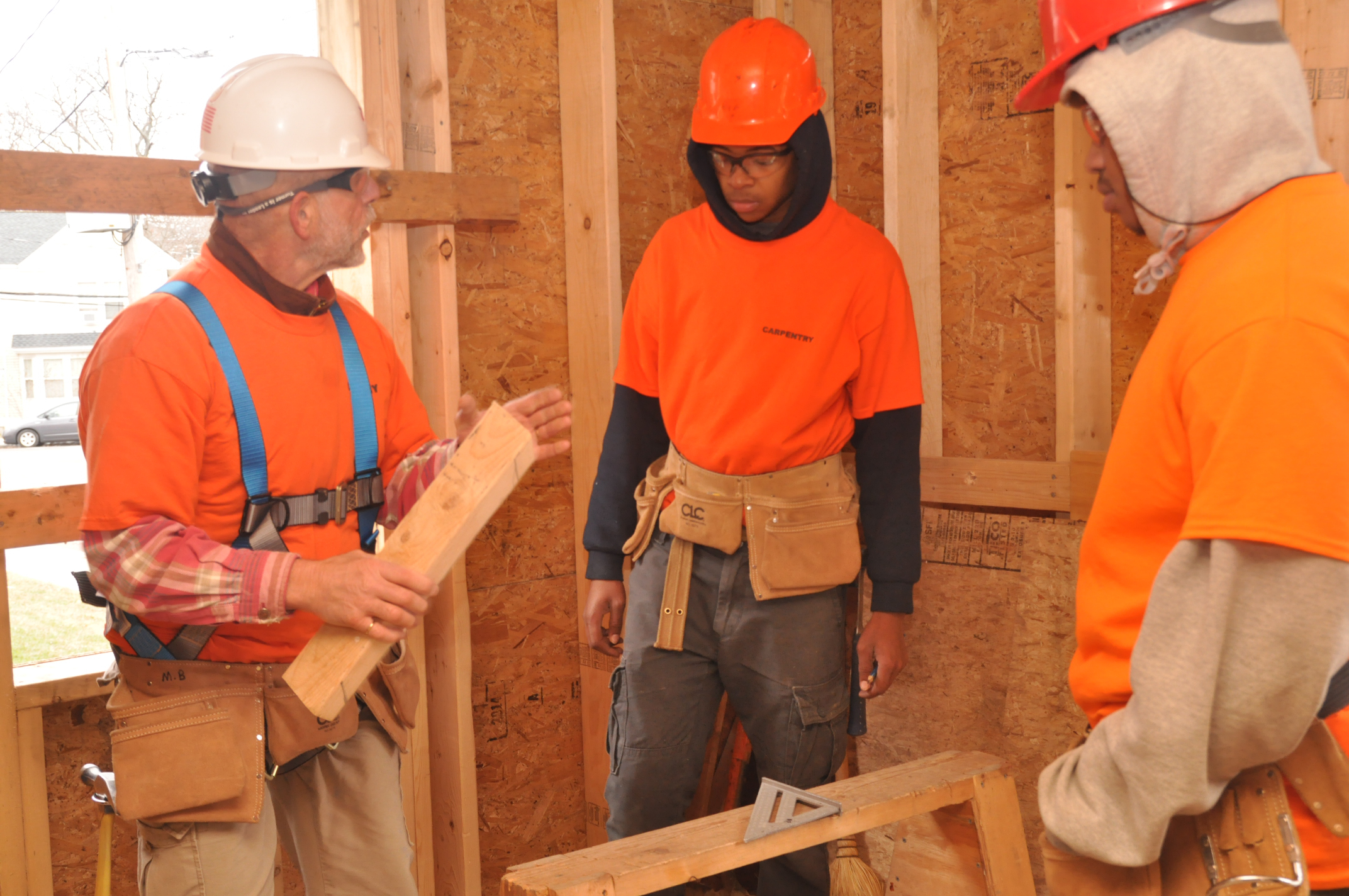 The Massachusetts Vocational Internship Program (VIP) places students from vocational high schools into paid clean energy internships during the academic year. ​
Why should you be a VIP Intern?
Receive valuable work experience as you begin your career in

the fast-growing

clean energy sector

Get paid for your work during the academic year

Make connections with clean energy professionals

Enhance your potential

for future employment

Employers, would your company like to receive support for hiring a vocational intern?
Program Schedule
The Vocational Internship Program lasts the duration of the school year. Students can start their internship after the session start date if this arrangement is agreed upon with their Co-Op Coordinator and the Clean Energy Employer. 
2022 - 2023 Session

| Process Step | Timing |
| --- | --- |
| Open enrollment and intern selection begin | August 30, 2022 |
| Session starts | September 1, 2022 |
| Session ends | June 30, 2023 |
Who's Eligible
You must be:
A rising senior who is actively attending a vocational or technical high school located in Massachusetts and is approved to participate in a co-op by your school's administration; OR

A member of a 

cohorted group of individuals approved for participation by MassCEC
Certain individuals are not eligible to participate in the Program:
Students who are not in good standing with their school

Current full- or part-time employees of the potential Host Employer at the time of the eligibility check

Any 

full-time

 employee or current intern who has been on payroll for more than 12 weeks at a Host Employer

Family members of employers or owners of the Host Employer
How to Participate
Ask your Co-op Coordinator to register for an account.
Your Co-op Coordinator must 

submit an online application

 on your behalf. Once the application is submitted, employers will be able to "see" you in the student database and contact your Co-op Coordinator about you. You must have a profile in this database for employers to confirm your eligibility with MassCEC for the Program. 
Communicate with clean energy employers. 
Be proactive! Reach out to clean energy employers for whom you are interested in working. 

Check our Internship Program Employer Map

 to view previously

participating employers for ideas

.

Respond to any employers who contact you.

If an employer is interested in hiring you, they will send your name to MassCEC for an eligibility check.

If you are eligible, the employer may contact your Co-op Coordinator to set up a phone or in-person interview with you

.

MassCEC will reach out to your Co-op Coordinator if we need any additional information from you.

Please respond to any communication from your Co-op Coordinator promptly so that we can confirm your eligibility for your potential employer.
Get signatures on an offer letter.
If an employer wishes to hire you for the session and receives confirmation from MassCEC that you are eligible, the employer

 will

send you an offer letter. You, your Co-op Coordinator, and your legal guardians (if applicable) all need to sign it.

Check that the offer letter includes your name, expected date range to be worked, and hourly wage.

Only after your signed offer letter has been received by MassCEC will we be able to officially reserve your funding for the session.
Enjoy your Internship!
Be sure to take advantage of this opportunity by learning valuable skills on the job and by networking with others in the industry.
Fill out the student survey.
MassCEC will provide you with a link to an anonymous student survey before the conclusion of the session. Please fill out the form, as it greatly assists in administering this program and making it as useful to you as possible.
Internship Program Employer Map
This map shows the employers (orange dots) who have participated in the Vocational Internship Program in the past. Zoom in and click on the dots for more information.
How do I increase my chances of being selected for an internship?

While it is ultimately up to the employer to decide on who they would like to work with them in a given session, employer feedback has indicated that proactive and detail-oriented students overwhelmingly end up being the ones to receive internships through this program. It is suggested that you:

Ensure

the information you submit in your application is accurate and up to date. 

Respond quickly to any communication received from interested employers, your co-op coordinator, or MassCEC staff.

Learn more about the program and use the resources available to you on masscec.com/vocational-internship-program-students

Reach out to clean energy employers in your area to let them know about the internship program

and also

express your interest in interning for them over a session.
Will prospective interns know which employers are reviewing their applications? 

The Massachusetts Clean Energy Vocational Internship Program is set up so employers can review the database and hand-select the students whom they would like to interview. MassCEC is not involved with selecting interns for employers. This means that you will receive communication about your application only from an employer when an employer selects you for an interview. You will only receive communication from MassCEC in the event that further documentation is required to confirm your eligibility for participation in this program.
How many interns will be selected?

The final number of interns will be determined by successful matches between the Host Employers and applicants. Stipend subsidies for employers from MassCEC are available on a first-come, first-served basis until MassCEC has committed the funds allocated to the program. After total allocation of funds, employers may still access the database of candidates and offer paid or unpaid internships, at the employer's discretion.
What paperwork is required for a student to participate?

Students must provide all necessary documentation and meet all requirements as set out by their school in order to participate in this program via the school's co-op program. Employers may require further documentation.
What is the intern stipend and how will interns be paid?

Interns will be hired and paid directly by the Host Employer. The pay rate should be established prior to accepting the internship offer. Employers are expected to pay their interns on a schedule that was previously explained and agreed to by the intern.  Please be aware that Host Employers may pay an intern more than the subsidy rate, however, MassCEC will only reimburse up to the full award amount.  Employers are not allowed to pay an intern less than $15 per hour. Please be sure you are aware of and agree to the terms of the internship before starting any work.
Additional Career Resources for Students