Image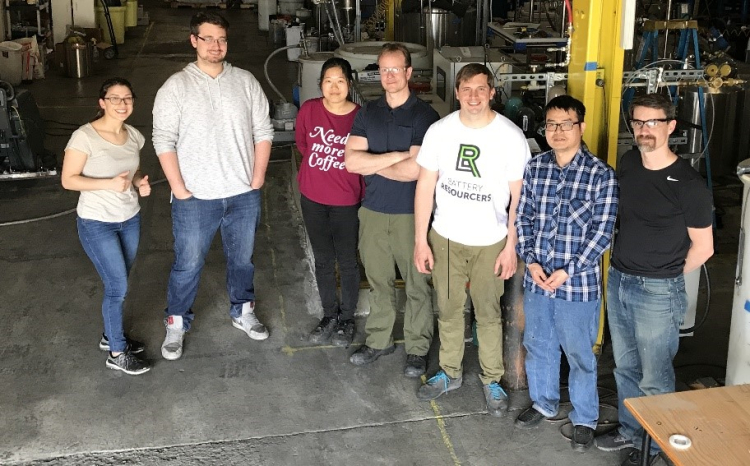 Innovative clean energy technologies are an important part of Massachusetts' ambitious greenhouse gas reduction goals. At the Massachusetts Clean Energy Center (MassCEC), the Technology to Market (Tech to Market) Team is focused on providing resources to clean energy companies, entrepreneurs, and academic research teams to further develop and commercialize their cleantech innovations. With funding opportunities ranging from $5,000 to $500,000, it is not uncommon for many MassCEC funded start-up companies to go through multiple MassCEC programs as they grow from the success of previous awards.
Building Envelope Materials, LLC (BEM) and Battery Resourcers, LLC are two companies that have received grants from multiple MassCEC programs and as a result, have contributed to the Commonwealth's clean energy economy. BEM provides high efficiency, minimally invasive insulation retrofits in buildings. Battery Resourcers recycles lithium ion batteries (i.e. from electric vehicles) and produces valuable cathode material from the recycled batteries.
Both start-ups first received funding through the Catalyst program, which supports prototype development of early stage, clean energy technologies. Doug Lamm, the founder of BEM, used Catalyst funding to prove out his retrofit process and the potential energy savings. Battery Resourcers started as a spin out of Worcester Polytechnic Institute (WPI) where Battery Resourcers' CEO, Eric Gratz, worked as a research professor. While BEM used Catalyst funding for prototyping, Battery Resourcers used funding to automate sections of its recycling process. "When we came in and gave tours for investors it looked a little bit more polished and that ultimately led to us getting investments," according to Gratz in an interview with MassCEC. The more streamlined process added a professional quality to the operation which increased Battery Resourcers' ability to approach investors with a more solid model.
When Battery Resourcers received a grant from the United States Department of Energy (US DOE) Advanced Battery Consortium in 2017 to modify its recycling process to include electric vehicle batteries, it looked to MassCEC's AmplifyMass program to fulfill the grant's cost-share requirement. The AmplifyMass program provides cost-share funding to recipients of federal and non-federal prime awards and has the broadest eligibility across technology readiness levels. The next step for Battery Resourcers was building out its pilot facility and raising its first round of investment funding which it did with the help of Seed Investments, a program led by the Investments team at MassCEC. Battery Resourcers soon realized that further improvements to the facility would decrease its carbon footprint and potentially increase the company's profitability, so it applied to InnovateMass and was awarded in 2018 to demonstrate its zero-waste battery recycling system.
Building Envelope Materials capitalized on its success under Catalyst as it looked to conduct a demonstration project under InnovateMass, which it was awarded 2015. The start-up company injected part of an apartment building using its insulation process and successfully demonstrated a 25% reduction in energy use compared to the un-injected part of the building. In 2018, BEM was awarded cost-share support under the AmplifyMass program on a grant from the US DOE to modify its insulation technology for use in cathedral ceilings and other roof cavities. BEM recently entered into a 3-year strategic partnership with CertainTeed, a branch of the building materials company, Saint Gobain, which first began working with BEM on its initial Catalyst award.   
Battery Resourcers and Building Envelope Materials also took advantage of MassCEC's Clean Energy Internship Program to hire interns from local colleges and universities. The program provides work experience in the clean energy sector for Massachusetts students and, according to Gratz and Lamm, the students contributed meaningful work throughout their internships. Lamm told MassCEC "Patrick (BEM's intern) has developed a way to use a tablet computer to store all the data and do double duty as also being a display on the [foam injection] unit which gives visual indication like green if everything is good, yellow if it's not, and red if it's bad. It's a very simple to see visual display and you're also downloading the data to give back to the building owner at the end of the job. The internship program has been awesome."
Overall, the suite of technology to market programs at MassCEC aims to provide funding along the entire cleantech innovation process: to bridge technology innovation from ideation to commercialization.
For more information on the programs mentioned in this blog post, please reach out to the following program teams: