Image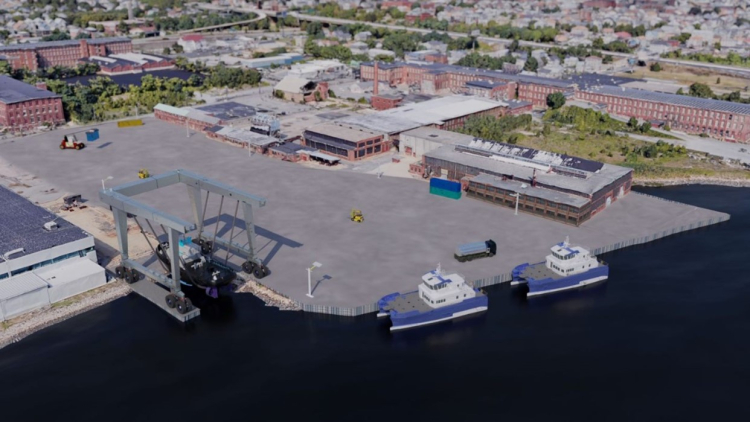 With funding from MassCEC's Offshore Wind Industry Ports Investment Challenge, local fishermen and father-son property owners Charlie and Michael Quinn are well underway in redeveloping a 14-acre waterfront property in New Bedford's upper harbor. The Quinns are transforming the former Revere Copper site into a waterfront terminal that will provide 550 linear feet of newly constructed bulkhead and six acres of open laydown space to support the offshore wind industry's operations.  
The property will be managed by Shoreline Offshore, a joint venture between the Quinns and SEA.O.G Offshore. Once complete this fall, Shoreline Offshore will be ready to provide the offshore wind industry with a waterfront terminal and centralized access to a network of local business owners, connecting offshore wind customers with dockage, laydown space, warehousing space, fuel, vessel repairs and maintenance, equipment, supplies, and more.  
For decades, the Quinns have dedicated themselves to meeting the needs of New Bedford's commercial fishermen. They recognize that both the offshore wind and commercial fishing industries are drivers of prosperity of the area. Consequently, they advocate for the simultaneous growth and harmonious coexistence of these sectors. Their goal is to foster parallel development, ensuring that both offshore wind and commercial fishing thrive in New Bedford.
Through the redevelopment of the site, the Quinns are cleaning up an active brownfield and participating in the Phase V Dredging Program led by the New Bedford Port Authority. The property will also be dredged to -15 to -25 feet in Fall 2023.  
Supporting Vessel Operations
As an additional component of this project, the Quinns are building a fuel storage facility at their Shoreline Marine Terminal South property, located on Pope's Island in New Bedford. This waterfront facility will increase the capacity of fuel in the harbor, securing the efficient operations of all offshore wind support vessels coming in and out of the harbor over the next several years. Shoreline Offshore is also managing this terminal and is currently leasing its warehouse and office space to offshore wind companies. 
The Quinns and Shoreline Offshore greatly appreciate the funding and ongoing support provided by MassCEC and are excited to participate in the growth of the offshore wind industry in the Port of New Bedford, ensuring it benefits both fishermen and local business owners.