Image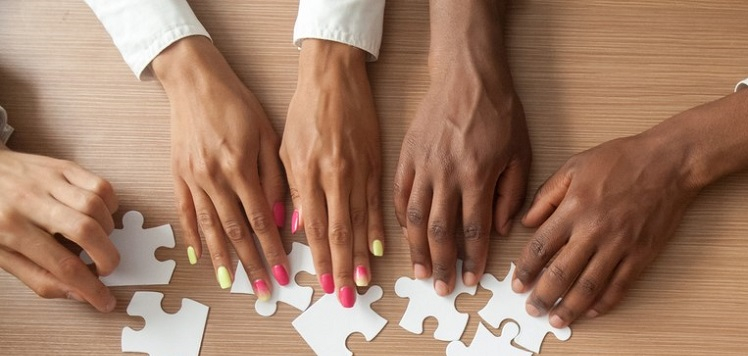 Reducing energy burden and providing clean energy to vulnerable populations throughout the Commonwealth will require a consistent and collaborative effort. As such, it is important to establish a community of organizations, non-profits, and local governments who are dedicated to working alongside one another to reach this goal. Our intention is that the EmPower Massachusetts Program (EmPower Mass), is a part of this effort. As we had talked about in our last blog post, and press release , for the pilot round EmPower we awarded funding to 32 project teams to explore and/or implement their ideas. This presented a new question: given the large size of our awardee pool, how would we bring project teams together to enable building connections, collaboration, and idea sharing? Prioritizing transparency and support were also important to us and given that teams would most likely be working on similar challenges and/or testing similar approaches we thought the best way to bring our awardees together was through a process we named "Cohort Calls." These would be virtual meetings where we would convene multiple project teams, or "Cohorts," as a chance for teams to discuss progress, foster collaboration, while providing benefits for networking opportunities and future partnerships between awardees. To maximize idea sharing and discussion, we decided to group organizations based on technology/focus areas surrounding their project themes – Workforce Development (WFD), Solar Photovoltaics (PV), & Energy Efficiency. Each project team was assigned to one Cohort where they would share their progress and updates. However, all teams were invited to join one or both other Cohort calls if they were interested.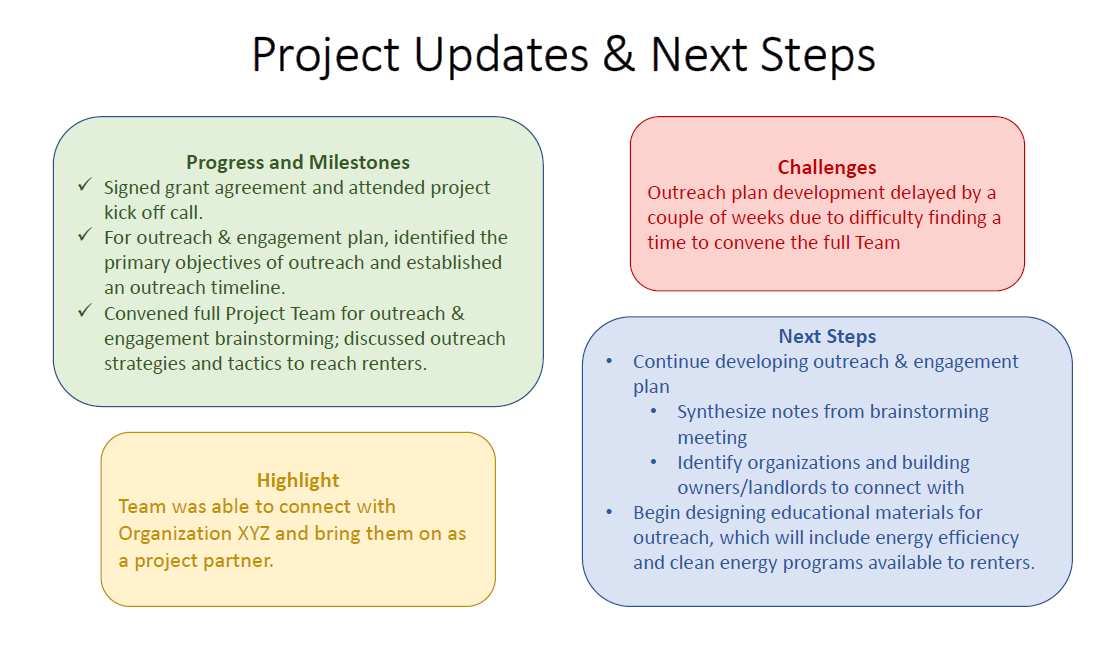 Successes and New Opportunities
We plan to hold Cohort Calls once every quarter or four times per year. MassCEC hosted the first Cohort Calls in April 2022. Administratively, it took a coordinated team effort to organize, schedule, and host these sessions, though ultimately the effort proved worthwhile, as the cohort calls were a great success! In each of these meetings, project teams were excited to connect with and learn from other teams.  in addition to direct engagement, the Zoom chat was a productive space where awardees were able to network, share ideas, and provide additional resources to (and with) each other. For example, several teams expressed an interest in sharing marketing materials and resources, and as a result a "Marketing & Resources" Slack channel was created live during the session! MassCEC was also able to share resources and related program/grant opportunities. Through all this, we saw many budding collaborations and relationship building. In fact, several teams discovered they were focused on the same region or city/town and set up separate follow up calls with each other to connect further and feasibly enhance their projects. This is exactly what we hoped for with the cohort calls! 
We hope, as we head towards our second cohort call coming up in late July/early August, that we will see more of these exciting collaborative moments as awardees (hopefully) continue to connect and learn from one another. 
We here at MassCEC were also able to learn many helpful things from our awardees! Teams shared insights such as: 
Hiring can take longer than expected.  

The clean energy program and incentive landscapes are both generous and complex.  

Having a place to share resources, such as outreach or marketing materials among teams, would be useful.  

Teams value the ability to connect and learn.  
Data is valuable but can be hard to come by. 
As EmPower Mass continues, we will do our best to find methods to incorporate these insights into the support and resources our program is able to offer. 
Truly, we were thrilled by how fruitful the Cohort Calls turned out to be and we look forward to the next set of calls in July and August! We can't wait to see what awardees will teach each other (and us)! We hope that these calls are one tool in building a strong network of organizations forming relationships and sharing best practices to promote equity-focused clean energy adoption in Massachusetts.  
What's coming next? Look out for a series of blog posts to highlight the progress and experiences of specific awardees and their projects. In particular, in our next blog we plan to discuss the work and achievements of the Local Initiatives Support Corporation (LISC) and Housing Nantucket (NHA). 
Do you have thoughts on what else you'd like to see MassCEC do with the EmPower Mass Program? We encourage readers to reach out to our team with questions, suggestions, or to be added to our EmPower email list. You can email us at empower@masscec.com.