The Boston Autoport is located in at 100 Terminal Street in Charlestown, MA with frontage on the Mystic River.  This 81-acre (33 hectare) property is mostly an open parking lot, currently operating as a shipping and outdoor storage facility for approximately 90,000 vehicles annually.  Vehicles are imported and exported by vessel, and imports are stored at the site and distributed by truck across northeastern U.S. 
The site is approximately 133 miles (247 km) from the leading edge of the offshore wind energy areas located south of Martha's Vineyard, and is located adjacent to Boston's Tobin Bridge, which imposes an overhead restriction of 135 feet (41 meters) for vessel traffic.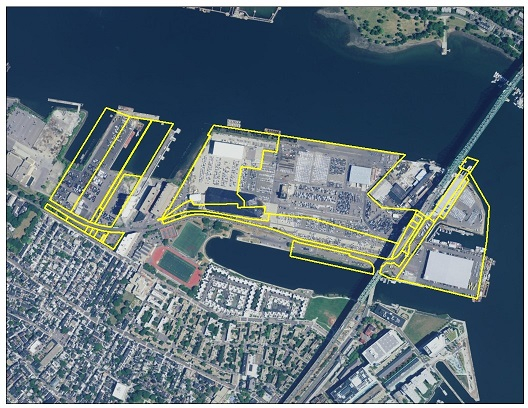 Download the Boston Autoport Redevelopment and Reuse Assessment to view the potential redevelopment and reuse options at the site, including detailed cost information.  Return to the main Ports Assessment page to read the full reports and visit the Massachusetts Offshore Wind Ports & Infrastructure Maps.    
And download the Boston Autoport Existing Conditions Report to read the comprehensive assessment of the existing site conditions at Boston Autoport.
As part of the existing conditions assessment, MassCEC has compiled a repository of existing documentation on the Boston Autoport, some of which is referred to in the Report.  All site documentation is available below:
Site photos
Site plans
Environmental reports

RTNs – Release Tracking Numbers 
AULs – Activity and Use Limitations 

NOAA Charts