The Challenge: Help Communities Build Resilience
The need for energy resilience continues to grow as increasingly frequent and severe weather events lead to major disturbances on the distribution grid. Widespread electrification of transportation and heating is necessary to meet the Commonwealth's decarbonization goals, further heightening dependence on the distribution grid.
When critical facilities such as schools, hospitals, and grocery stores are vulnerable to electricity outages, a community's inability to respond to an emergency can compromise safety. Communities need help designing resiliency solutions that cover critical loads in a cost-effective manner.
About CLEAR
The CLEAR program is a successor to MassCEC's Community Microgrid Program. It supports energy resilience investments in Massachusetts by advancing energy resilience system designs for critical facilities. To achieve this, MassCEC awarded funding to three consultants to assist Massachusetts communities in performing feasibility studies for microgrid solutions. GE Energy Consulting, along with Resource Innovations, also produced a Resiliency Toolkit to help communities identify and reduce the burden of undertaking a resiliency project. The RAND Corporation received an additional grant to create a Resiliency Certification, which provides a method to certify sites as "resilient" to outages. 
Activities Supported
Resiliency toolkit for communities
Resiliency certification for facilities
Total Funds Awarded
$821,552
Program Accomplishments
Provided guidance on resiliency, clean energy, and microgrids to nine project sites in Boston, Framingham, Cohasset, West Tisbury, Natick, and Bedford. 

For each project site, technical consultants produced a report on the feasibility of developing clean energy resilience at the site.

Created an easy-to-use toolkit that communities can use to estimate pricing, resources needed, and critical loads prior to hiring a consultant and pursuing a resiliency project. This can lower the upfront costs and allow communities to identify the resources a resiliency project would require.
Created a method to certify specific sites as resilient to power outages. The Resiliency Certification ensures resilient systems can be fully utilized by first responders and storm restoration crews during major events and grid disturbances.
Program Results and Resources
CLEAR Community Resiliency Projects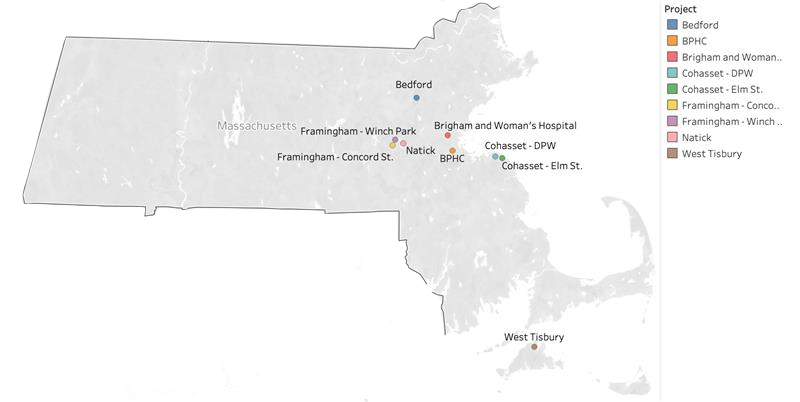 Energy resiliency is a key consideration as the Commonwealth transitions to a fully-electrified net zero economy.

The marketplace as currently constructed will likely not provide many municipal resilience projects, but a statewide planning strategy could support greater resilience at the community level.

CLEAR aimed to identify scalable and replicable clean resilience projects; however, this remains challenging due to site specific constraints and procurement challenges.
Resiliency Toolkit
GE Energy Consulting, in partnership with Resource Innovations Inc., was awarded $80,000 to develop a Resiliency Toolkit for communities across the Commonwealth. The Resiliency Toolkit helps reduce the upfront cost burden associated with design of resilient power systems and asset investment plans. The toolkit provides communities with tools to identify their critical loads and perform high-level resource screening independently -- helping to identify what data are relevant for communities to determine their resiliency needs. The toolkit also includes a guide for communities to find their necessary data from utility websites or billing platforms, as well as a guide to consideration of critical loads and preliminary pricing and sizing of resources needed to support such loads through outages of different durations.
Potential users of the Toolkit are city, town, or community planners, sustainability coordinators, energy managers for schools, hospitals, water and wastewater facilities, and any other party interested in evaluating resilient power systems at a building, site, or community level. 
Resiliency Certification
The RAND Corporation was awarded $86,265 to develop a Resiliency Certification to support first responders and storm restoration crews utilizing resilient systems during major events and grid disturbances. RAND developed a method to certify a specific site as "resilient" to outages and addressed and defined what critical loads a facility can support and how to specify island capability, among other assets.
Program Procurement Details
Procurement Process
The Technical Consultant RFP was released in Fall 2019 and consultants were selected in early Spring 2020. The consultants were chosen based on expertise in resiliency assignments, design studies, microgrid planning, experience working with diverse public and private stakeholders, and experience working with MassCEC.
The Request for Expressions of Interest from communities was open from February 2020-April 2020. The initial response rate was lower than anticipated due to the start of the COVID-19 pandemic; a second round EOI was released in Fall 2020. Communities were chosen based on geographic diversity, proposed site characteristics, preliminary feasibility, and equity considerations.
Consultant RFP and Community Participation Documents