Image
After five years of facilitating solar photovoltaic (PV) installations in Massachusetts (MA), the Mass Solar Loan (MSL) program closed to new applications in December 2020.  
The program was designed as a kickstart to solar lending that would:
encourage the continued expansion of the residential solar industry in MA;
promote direct ownership of solar PV;
expand access to financing to underserved residents;
engage community banks and credit unions in the solar industry.
The program was able to facilitate the implementation of nearly 5,800 PV systems since its launch, (3,000 of which were for income- qualified residents), provide solar loan experience to participating lenders, and promote the development of loan products outside of the program. 
Selected program materials are available below and at https://www.masssolarloan.com/.
Background
The MSL program was created by the Massachusetts Department of Energy Resources (DOER) and administered by the Massachusetts Clean Energy Center (MassCEC), launching in December 2015 with a budget of $30 million. The impetus for the program was the transition in Massachusetts from upfront rebate style PV incentives to production based incentives, as well as a DOER-commissioned study highlighting how direct ownership of solar economically benefits both the homeowner and their community. The main barrier to direct ownership, and the major issue the MSL program tackled, was the lack of financing available for solar energy. In 2015, the primary options were third-party ownership or outright purchase. Through extensive stakeholder work with the solar and financial services industries, the MSL design was developed. It aimed to increase access to financing by bringing local banks and credit unions into the space, leveraging their existing capital and expertise in consumer loans with a structure that would encourage their continued participation in the market beyond the program's funding/operation. The program was also particularly designed to expand ownership opportunities and ensure that residents that were income-qualified or had lower credit scores had access to financing.
Program Structure
Over the course of the program MSL worked with 17 different banks and credit unions in MA to offer solar loans to consumers, introducing these institutions to the potential of solar financing. The program offered three different types of loan support incentives to reduce costs to consumers and help lenders reach a range of customers:
Interest Rate Buy-Down (IRBD) - at launch of the program, provided a 3% interest rate reduction to all participants, 
Income Based Loan Support (IBLS) - provided a decrease in the loan principal for income- qualified customers, 
Loan Loss Reserve (LLR) - expanded the credit score range that lenders were willing to lend to by acting as a safety net in the event of default.  
In addition to encouraging both customers and banks to participate, these incentives were structured to follow a gradual step-down process, intended to reduce state support over time and establish this solar finance market as a self-sustaining aspect of the industry.  
The first step down to the program, in October 2016, reduced the Interest Rate Buy Down from 3% to 1.5%. This was followed by several step downs as the program increasingly focused on improving access to solar for income- qualified residents (those below 120% of state median income). In December 2017, the program budget was expanded by $10 million. With this expansion, low-income households (below 80% of state median income) remained eligible for the 3% interest rate buy down and 30% reduction in loan principal. Moderate-income households only remained eligible for a reduced principal reduction (10%), while non-income qualified households sought market rate financing. In September 2019 the budget was increased by a subsequent $5 million, corresponding with a stepdown such that only low-income qualified customers were eligible for support, while those at 80% of state median income and above could continue to seek market rate financing. 
This ensured that the most underserved solar adopters continued to receive the necessary support to overcome barriers to solar adoption, and that lenders still had assistance and support to gain experience with solar financing as MassCEC reduced its involvement.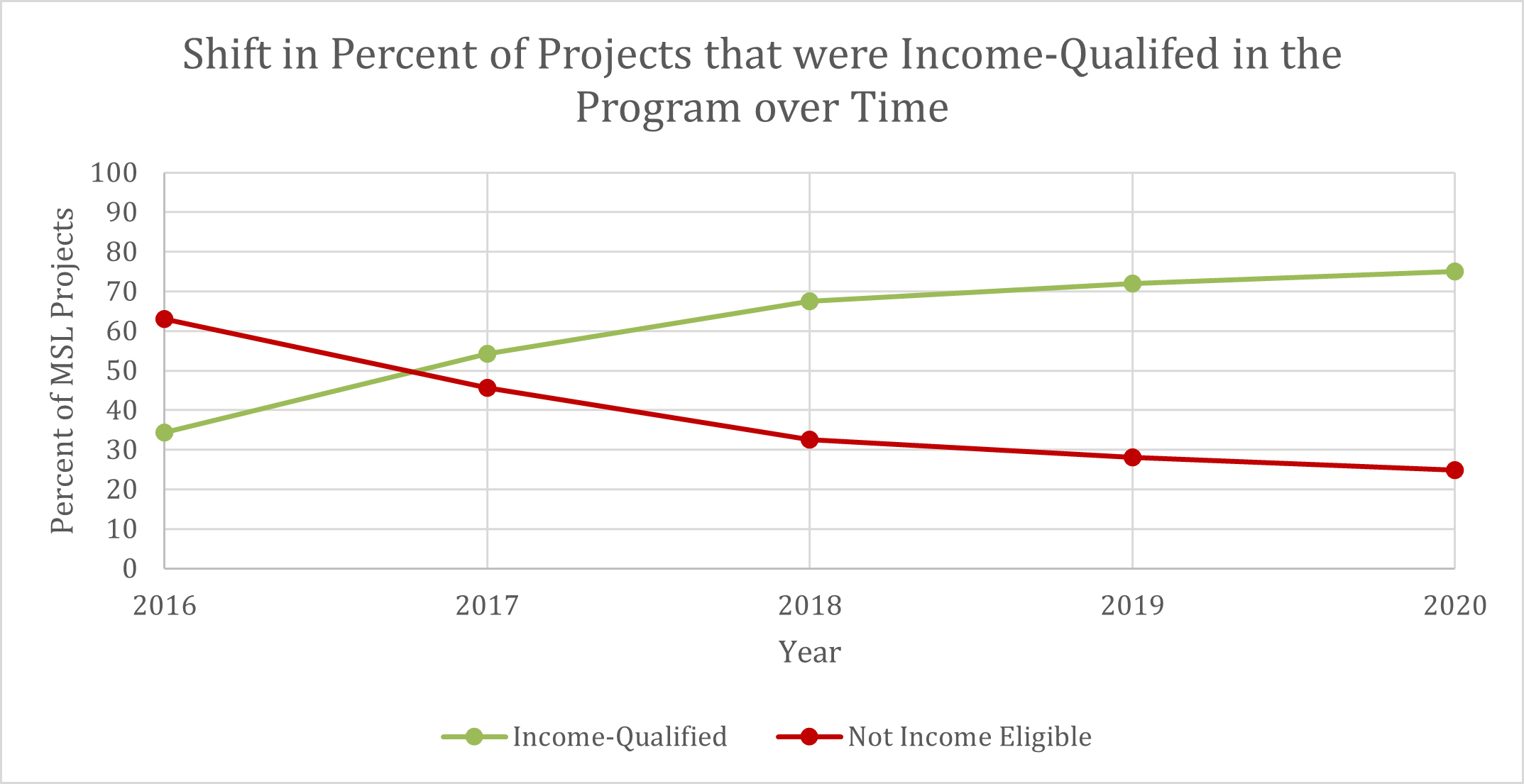 Program Sunsetting
The gradual decrease of incentives was designed to provide a smooth sunsetting of the program that did not leave a massive gap in the industry. As lenders were able to gain experience with solar loans with the support of the MSL program, participating lenders were encouraged to launch solar loan products outside of the program, if they had not done so already. Surveys of MSL participants demonstrated the success of the program for customers and lenders alike. A post project installation survey of MSL participants showed that roughly 90% of participants had not previously interacted with the lender they worked with for their solar loan, and 93% said that they were likely to recommend their lender to a friend or colleague. We hope that the lenders' positive experience and the opportunity for new business encourages new local lenders to offer solar loans. 
During the program's lifetime almost 5,800 solar loans were closed, with around 54% (over 3,000 projects) belonging to income-qualified residents. This is a significant number of directly owned solar PV systems now installed and operating, representing and an improvement in the accessibility of solar to previously underserved residents. The program was able to expand access across the state, reaching over 340 MA municipalities as demonstrated in the map below.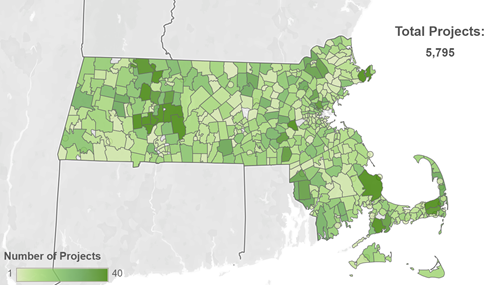 Program Impacts
Mass Solar Loan was designed to impact 3 key stakeholder groups: installers, lenders, and MA residents. Along with post installation surveys to participating residents, an end-of-program survey was administered to participating installers and lenders. The results demonstrated the critical role that the program played in increasing the accessibility of solar to MA residents and bringing lenders into the solar loan market. Though not all participating lenders and installers responded to the survey, the majority of responses confirmed the impact of the MSL program relative to the established program goals:
Provide a new financing tool for solar PV installers and enabling them to better reach income- qualified residents.
Introduce lenders to residential solar loans. 
Reduce the costs and ensure availability of financing for a broad range of residents, including those traditionally underserved.
Installers: The more than 100 installers participating in the program were able to offer new competitive financing options to their customers and were enabled to better reach low-to-moderate income customers. In the post program survey, over 90% of the installers that responded expressed that the program was crucial to allow them to reach income-qualified individuals and that many of their customers could not have installed solar without it. One installer said that "This program was essential in serving low-income customers. Words can't describe how much it helped us expand our business into that demographic. Low-income customers [were] 70% of our business, and it is completely a result of Mass Solar Loan."
Lenders: Over the course of the program, 17 participating lenders were introduced to the solar loan market and given the opportunity to gain experience with solar financing, hopefully allowing them to create solar loan products of their own. The program supported lenders in offering loans to a range of customers and potentially creating relationships that will continue into the future. Lender survey respondents generally agreed on the importance of the program's incentives to their ability to offer solar financing to income-qualified and low credit score households. They also expressed that the program increased their exposure to customers and MassCEC's technical review reassured them of the legitimacy of the projects, which influenced the number of borrowers they could offer financing to. An installer went on to highlight that the MSL program helped "[show] banks and credit unions that they can actually make money on solar loans." Indeed, 11 lenders each originated over $3 million in loans (with the most prolific lender reaching over $60 million), demonstrating the business opportunity of solar loan products for lenders. Of the lenders that responded to the survey, the majority indicated that they were looking into offering, or already offered, their own solar loan products, and that MSL program was crucial to giving them the knowledge of solar financing that they needed to do so.
MA Residents: Most importantly, residents themselves were provided with expanded access to owning solar PV. Income-qualified residents and those with lower credit scores were able to finance projects, and both homeowners and the local economy benefited from the direct ownership of solar PV systems. In our post project installation customer survey over 90% of respondents indicated that the interest rate reduction and principal reduction were important or very important to their ability to install solar PV. 
What's Next
Moving forward, MassCEC hopes that the MSL program has set the stage for the continued growth of the solar industry in MA, and continued expansion of financing products available to residents. As a program intended to kickstart a self-sufficient sector, the next key phase for Mass Solar Loan is to use the program experience and data to support continued expansion of solar financing (see resources below). As more lenders launch their own solar products, MA residents will have greater ability to finance their own solar PV projects, and access to benefits of solar PV will continue to expand.