Image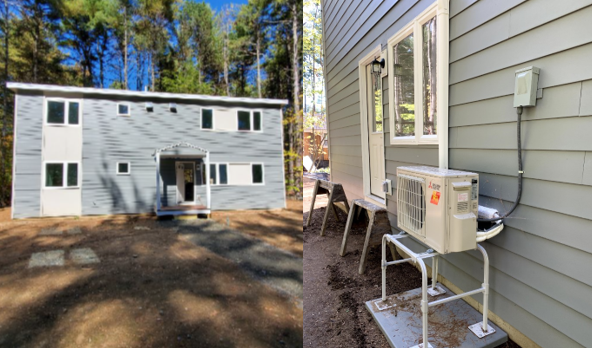 MassCEC's whole-home air-source heat pump pilot program has been running for about nine months now. We currently have 41 approved projects, with 23 existing building retrofits and 18 new construction or gut rehab projects. We have funding for up to about 150 projects before the pilot ends in June (which is getting close!), so if you're a homeowner reading this blog and you want to install a whole-home heat pump system, the time to act is now! If you're not sure how to get started, check out the Northeast Energy Efficiency Partnership's Air-Source Heat Pump Buying Guide (or just email me).
See our previous monthly blog updates for more case studies, data!
Low and Moderate Income Participation
This month, I wanted to highlight program participation from low and moderate income residents, as well as affordable housing developers. We set up the incentive to offer higher rebates to income-qualified customers and affordable housing developers. We've been working with a third-party income verifier for several years, and we've tried to create a streamlined process. You don't need to submit any tax documents; you just need to give our income verifier permission to get your tax documents from the IRS and then they'll issue a letter about whether you're eligible.
Of the 41 approved projects so far, 5 have been homeowners with less than 80% of the state median income, 2 have been homeowners between 80%-120% of the state median income, and 9 projects have been affordable housing units. Combined these projects represent about 40% of our total projects.
Whole-Home Air-Source Heat Pump Pilot Incentives

| Income Category | Incentive per Residence |
| --- | --- |
| >120% of state median income | $2,500 |
| 80%-120% of state median income | $3,750 |
| <80% of state median income or affordable housing developer | $5,000 |
MassCEC strives to make clean energy accessible to all residents of the Commonwealth. For example, our Mass Solar Loan program offers a low-interest, fixed-rate loan and loan support for income-qualified residents of Massachusetts so that owning solar PV and the associated financial benefits are not restricted to those who have the upfront capital. Mass Solar Loan has helped over 2,800 income-qualified homeowners purchase solar PV systems. Solar PV is a good complement to air-source heat pumps because solar PV can lower the cost of electricity, which makes it more affordable to heat and cool with heat pumps.
In my initial blog from when the program launched in May, I highlighted affordability concerns about heating with heat pumps; at current natural gas and electricity prices, most households would pay more to heat with air-source heat pumps. I want to be clear about that, so that pilot participants don't see their utility bills increase unexpectedly.
However, in some cases, air-source heat pumps can be a real cost winner. For example, none of the affordable housing units participating in the pilot had access to the natural gas system, so they all would have heated with propane, which is more expensive than heating with air-source heat pumps. By installing air-source heat pumps, these affordable housing developers get access to a cheaper heating costs and only have to install one piece of equipment for heating and cooling. Additionally, as I've mentioned above, pairing heat pumps and solar PV can make the heat pumps cost-competitive with natural gas.
Pilot Change Coming Soon…
Even though the pilot is ending at the end of June, we're hoping to make a slight tweak to the pilot in order to be able to offer a rebate adder for projects that do blower door testing to inform the heat load calculation. Stay tuned for an announcement coming soon.
In the meantime, feel free to email me with any questions or suggestions about this pilot.