Image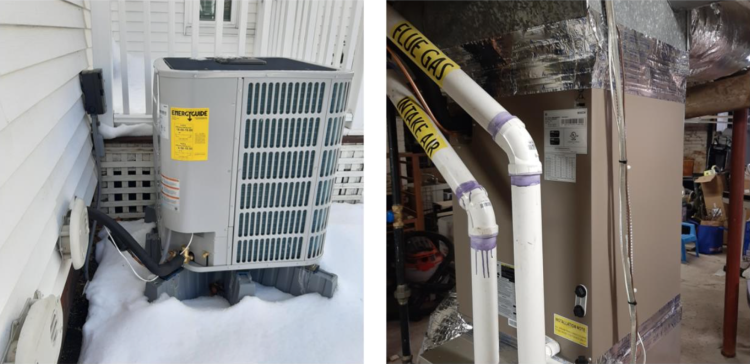 MassCEC is pleased to announce higher incentives for our whole-home air-source heat pump pilot program from now until the pilot closes on June 25, 2021. The base incentives for low- and moderate-income households have increased, and we have begun offering an adder to help support efficiency and other electrification work in retrofit projects that might be part of a heat pump project. Here are the new incentive levels: 

Efficiency + Electrification Adder
In our pilot, we've found that sometimes it makes sense or is necessary to do additional work as part of a heat pump retrofit. For example, 19% of the retrofit projects approved in the pilot so far have required an electric service upgrade to get a whole-home heat pump system. The Efficiency + Electrification adder will cover 100% of eligible weatherization expenses and/or 50% of eligible electrification upgrade expenses up to $2,500. Applicants may complete multiple weatherization and/or electrification measures, although the maximum amount for this adder does not increase for multiple measures. Eligible expenses include:
Eligible Weatherization Measures (100% reimbursement up to $2,500):

System Owner co-pays for Mass Save® weatherization work (e.g., air-sealing, duct sealing, insulation) 

Additional weatherization measures beyond Mass Save's suggested measures such as advanced duct or air-sealing (e.g., Aerobarrier or blower door assisted air sealing) or transitioning to a hot roof (e.g., spray foaming the attic

Replacement of single-pane windows with new windows that are ENERGY STAR certified for Climate Zone 5 (Note: Replacement of double pane windows not eligible)

Completing a blower door test to inform the heat load calculation (Note: This measure is only eligible for up to Five Hundred Dollars ($500) and the Blower Door Test Results and Heat Load Inputs form must be completed as part of the measure)

Eligible Electrification Measures (50% reimbursement up to $2,500):

Electrical service upgrades (e.g., from 100 amp to 200 amp service)

New electric appliances, if switching the following appliances from gas:

Heat pump water heater

Electric cooking range (Note: Consider an induction stovetop for the most efficient option.)

Electric dryer (Note: Consider a heat pump dryer for the most efficient option.)

Level II charging infrastructure for an electric vehicle

Energy/heat recovery ventilation
Update on Pilot Metrics
Since the pilot launched in May 2019, MassCEC has awarded 96 projects (63 for existing buildings, 7 for gut rehabs, and 26 for new construction). For this pilot, MassCEC makes awards before projects are installed and allows up to six months for existing buildings and up to a year for gut rehab and new construction to complete the installation; at this point at least 69 of the awarded projects are installed and have submitted project completions to MassCEC. See our previous monthly blog updates for more information about the pilot.
Decarbonization Pathways Pilot Coming Later this Year
After the whole-home air-source heat pump pilot stops accepting new application this June, MassCEC will begin to work on our next residential pilot: Decarbonization Pathways. This pilot program will still cover whole-home heat pumps, but it will expand the scope to focus on complete whole-home decarbonization (i.e., entirely removing fossil fuels from existing homes while making them more efficient). 
Project of the Month: 19th Century Salem Home Converts to Central Heat Pump
I've been profiling one completed whole-home project every month to give readers a sense of what it's like to live with a whole-home heat pump system. You can see past profiles from August, September, October, and November.
This month's featured project is retrofit of a 1,545 square foot, second-floor unit in a two-family Salem home originally built in the 1880s. Previously, the unit was heated by a natural gas furnace but did not have any cooling. I wanted to feature this home this month because the owners focused on efficiency before putting in heat pumps. I spoke with Joe Weaver who lives in the unit with his wife and kids. Joe Weaver used to do assessments and inspections for Mass Save®, so he is particularly aware of the importance of efficiency. When the family bought the home in 2019, they paid to do three inches of closed cell spray foam against the attic's roof rafters and then filled the cavity with open cell foam. Mass Save® does not currently incentivize spray foaming the attic, so this would be an example of a measure that could be supported by MassCEC's new Efficiency + Electrification adder. Please note that Mass Save® does support the cost of blown-in cellulose insulation in the attic, but Joe Weaver wanted to take a different approach and spray foam his attic.
After adding spray foam to the attic, the Weavers had a no-cost Mass Save® Home Energy Assessment, and went through Mass Save® to get blown-in cellulose insulation in the walls. Mass Save® covers 75% of the cost of blown-in cellulose. The remaining 25% of the cost is another example of a measure that could be covered by MassCEC's new Efficiency + Electrification Adder. Mass Save® also air-sealed the rim joists (the wooden boards between the foundation and the edge of the basement ceiling) in the basement.
Overall, these efficiency measures made a big impact on the family's comfort. They are much more comfortable than they were in their previous home (no more thermostat wars!), and they can tell that the home is retaining heat. For example, on a recent winter day with temperatures around freezing they had the heat off from 8 am to 2 pm and the home's temperature only dropped by 3°F.
After completing these efficiency measures in 2019, in 2020 the Weaver family started considering a heat pump for the second-floor unit of the two-family home since they were looking to provide the most efficient, least carbon-intensive means for cooling and heating the home. They were able to integrate the heat pump with the existing ductwork with only minor upgrades to increase the ductwork's capacity for cooling. They selected a Bosch BOVA-60HDN1-M20G centrally ducted heat pump, which has a capacity of 40,000 btu/hr at 5°F. The home's calculated Manual J peak heat load is 42,311 btu/hr at 0°F. The new heat pump was installed in December 2020. The home's natural gas furnace was less than ten years old, so they kept it as an emergency back-up. As of my conversation with Joe Weaver on February 12, 2021 they had not needed to turn on the gas back-up since getting the heat pump.
The heat pump project cost $12,700 plus the cost of the ductwork upgrades. Joe Weaver noted that he shopped around and pushed hard to get such a good deal. (MassCEC's median whole-home retrofit project cost is around $19,000.) Joe Weaver also noted that if they decide to add a heat pump to the first-floor unit at some point he does not think they would need to do any additional ductwork upgrades for that unit. Since getting the heat pump installed, the family's electric bills have gone up although not an unmanageable amount, according to Joe Weaver. He does hope that eventually our state's electric rates come down.
Overall, Joe Weaver says that his experience with the heat pump has been seamless so far. He was nervous about longer recovery times with the heat pump, but he hasn't observed that so far. (Note: The couple featured in the October blog with this same heat pump model did observe that their heat pump was slower to recover from setbacks than gas heating, so perhaps this is another place where all of the efficiency work that the Weavers did on the house is paying off.) The Weaver family has been very comfortable with their new heat pump!
These photographs show the Bosch outdoor compressor (left) in the snow (good thing the equipment is on risers!) and the indoor air-handler (right) in the home's basement