The former Montaup Power Plant site is located along the west bank of the Taunton River, at 1606 Riverside Avenue in Somerset, MA.  It is the former site of a coal-fired electric generation facility, which ceased operation on January 1, 2010, and is now largely unused.
Located approximately 2.5 miles (4 km) from Interstate Route I-195, the former Montaup Power Plant site is roughly 28 acres (11 hectares) and is comprised of a former electric power generating facility site along the Taunton River and a secondary parcel with a former fuel oil tank farm.  The Montaup site is approximately 39 nautical miles (73 km) from the leading edge of the offshore wind energy areas located south of Martha's Vineyard.  Infrastructure on-site includes a large power plant building, several smaller out-buildings, a concrete paved open area adjacent to the quayside that once served as the staging area for coal, and a pair of unused above-ground storage tanks for fuel.  It is located directly across the river from the Former Weaver's Cove Energy site, a 68-acre former fuel oil tank farm controlled by the same property owner.
The waterfront property recently has been the focus of studies, which have concluded that the existing infrastructure and location in Mount Hope Bay are desirable features for offshore wind energy projects.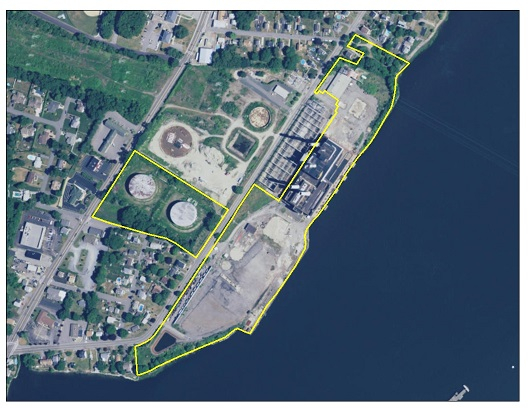 Download the Montaup Power Plant Redevelopment and Reuse Assessment to view the potential redevelopment and reuse options at the site, including detailed cost information.  Return to the main Ports Assessment page to read the full reports and visit the Massachusetts Offshore Wind Ports & Infrastructure Maps.    
And download the Montaup Power Plant Existing Conditions Report to read the comprehensive assessment of the existing site conditions at Montaup Power Plant.  
As part of the existing conditions assessment, MassCEC has compiled a repository of existing documentation on the Former Montaup Power Plant site, some of which is referred to in the Report.  All site documentation is available below:
Site photos
Property records
Site plans
Environmental reports

RTNs – Release Tracking Numbers 
AULs – Activity and Use Limitations 

Site Licenses
NOAA Chart 13226 Mount Hope Bay
Historical site information
Other