The Brayton Point Power Plant property, located in Mount Hope Bay on the South Coast of Massachusetts, is the site of a 1,493-megawatt power plant that was shut down earlier in 2017 and is in the process of being decommissioned.
Located less than a mile from Interstate 195, the 307-acre property currently includes a 700-foot (213 m) wood-decked quay accessed via a privately-maintained channel 34.5 feet (10.5 m) deep at mean lower-low water (MLLW), and offers a quay appropriate for vessels up to 750 feet (228 m) in length.  The property has an active quayside, comprised of a marginal wharf with hard-points and dolphin tie-points for bulk carriers, and a fuel off-loading pier for oil tankers and liquid product delivery vessels.  The site is approximately 37 nautical miles (100 km) from the leading edge of the offshore wind energy areas located south of Martha's Vineyard.  Additional infrastructure on-site include a building for power generation, a 9-acre coal yard, two 500-foot tall cooling towers, ash storage facilities, and high voltage transmission lines.
The waterfront property recently has been the focus of studies that have concluded that the existing high voltage transmission infrastructure and location in Mount Hope Bay are desirable features for offshore wind energy projects.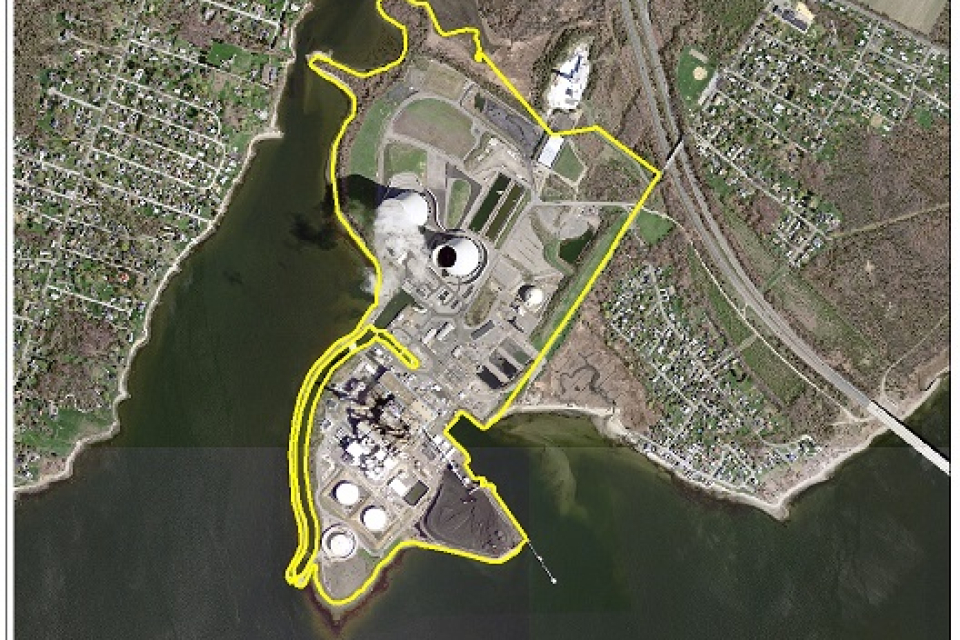 Download the Brayton Point Redevelopment and Reuse Assessment to view the potential redevelopment and reuse options at the site, including detailed cost information.  Return to the main Ports Assessment page to read the full reports and visit the Massachusetts Offshore Wind Ports & Infrastructure Maps.  
In 2018, MassCEC evaluated an additional conceptual design for interim redevelopment of Brayton Point's bulkhead, which analyzed the addition of crane pads along the existing bulkhead.  This conceptual redevelopment is intended to allow for the transfer of monopile foundations, transition pieces, or towers (or other heavy offshore wind components such as nacelles) from a delivery ship to an upland staging area for the purposes of installing secondary steel, staging, and eventual deployment to the designated offshore wind farm. Download Addendum 1: Brayton Point Crane Pads Conceptual Design. 
And download the Brayton Point Existing Conditions Report to read the comprehensive assessment of the existing site conditions at Brayton Point.  
As part of the existing conditions assessment, MassCEC has compiled a repository of existing documentation on the Brayton Point Site, some of which is referred to in the Report.  All site documentation is available below:
Site photos
Site plans
Environmental reports

RTNs – Release Tracking Numbers 
AULs – Activity and Use Limitations 

Site Licenses
NOAA Chart 13226 Mount Hope Bay
Historical site information
Other