The Challenge: Dispel Misperceptions about Passive House Construction​ Costs
Passive House standards provide a framework for the construction of exceptionally low energy, resilient, healthy, and comfortable buildings. However, as of 2019, there was only one certified Passive House multifamily building in Massachusetts and little data was available on the cost of building to Passive House standards.​
About the Passive House Design Challenge
MassCEC sought to demonstrate that multi-family affordable housing that meets Passive House standards can be built at a low- to no-cost premium in Massachusetts. The Passive House Design Challenge made awards of up to $4,000 per unit for eight new-construction, affordable housing developments that were seeking Massachusetts Low Income Housing Tax Credits (LIHTC).  The goal of the program has been to demonstrate that new construction can be built to Passive House standards with a cost premium of less than 3%.​
Program Accomplishments
As of July 2022, five of the eight awardees' projects are occupied and the remaining three are under construction. 

While not all incremental costs have been finalized, most projects appear to have incremental costs under 3%.​

The Design Challenge's incentive structure informed Mass Save's® incentives for Passive House multifamily new construction.

As of December 2022, 152 multifamily buildings with over 10,000 units were on the path to construction and to certifying to the Passive House Standard.

The American Council for an Energy-Efficient Economy (ACEEE) published a paper by MassCEC and ICF, "Scaling Up Passive House Multifamily: The Massachusetts Story."
Program Area
High Performance Buildings
Program Duration
2017 - 2018
Activities Supported
Design & Construction
Pilot Projects
Total Funds Awarded
$1,700,000
Awardees
*Depot Village has been Passive House pre-certified, but will not make Passive House certification​.
Incentives
Mass Save® Passive House Incentives
Multifamily
Mass Save® offers a generous incentive program for new construction projects of five or more units to consider and certify building to Passive House standards. Both market-rate and affordable new construction projects are eligible. The program offers design-phase incentives; certified projects may be eligible for an additional $3,000 per unit.
Commercial
Mass Save® offers a generous program for new-construction commercial buildings (including schools) over 20,000 square feet. This program provides comprehensive technical expertise and financial incentives for Passive House, Zero Net Energy, ZNE Ready, and very low energy use intensity (EUI) projects.
Educational Resources and Certification
Reimbursement for Passive House Certification Courses
Courtesy of Mass Save®, Massachusetts residents and workers may earn significant reimbursement of registration fees for Passive House certification training for designers, consultants and builders.  The content is relevant to professionals working on all high-performance building projects.  
MassCEC webinar: "An Introduction to Multi-Family Passive House​"
Get the basics here!
Video Libraries
 
The following organizations offer a wealth of training videos.
About Passive House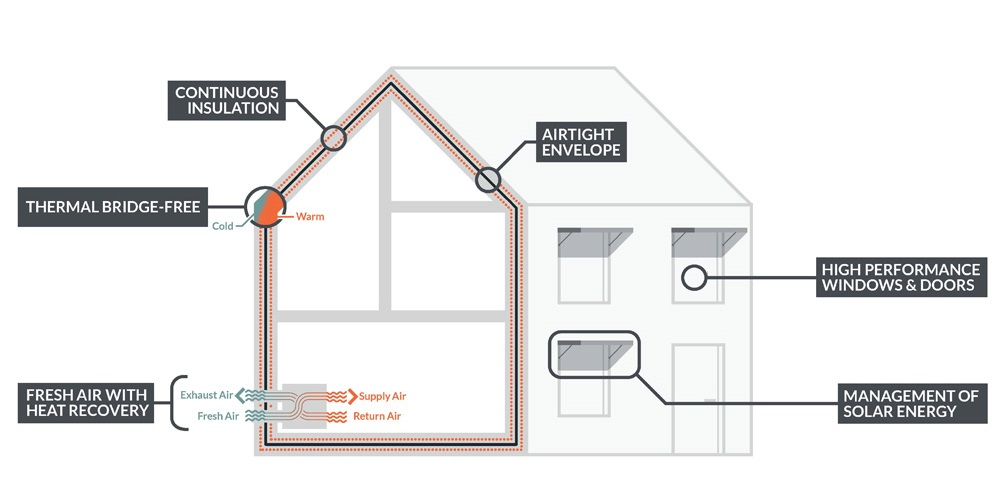 Passive House is a green building certification that ensures extremely high levels of energy efficiency and the provision of fresh air for ventilation.  Multi-family buildings built to the Passive House standard generally use 40% less total energy than energy stretch code-compliant buildings. The annual energy use of eight to 12 Passive House multi-family apartments is roughly equivalent to the average existing single-family suburban home in Massachusetts.​
Passive House buildings achieve
Drastically lower energy use and operational cost savings​

Healthy fresh air quality from ventilation systems ​

Consistent and comfortable room temperatures without air drafts​

Increased natural lighting and quieter acoustic conditions​

A more resilient and comfortable building ​

Lower energy demand, which can be easily provided by solar power, creating a pathway to a net-zero or net-positive building ​