The New Bedford Marine Commerce Terminal is a multi-purpose facility designed to support the construction, assembly, and deployment of offshore wind projects, as well as handle bulk, break-bulk, container shipping and large specialty marine cargo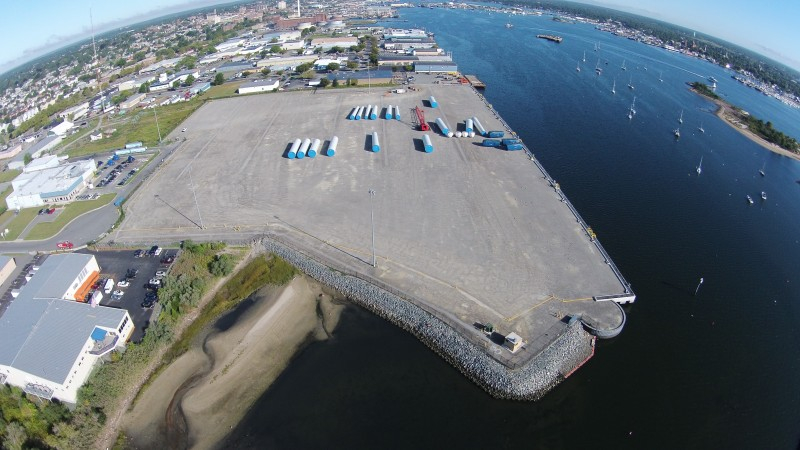 The New Bedford Marine Commerce Terminal (NBMCT) has been engineered to be the most versatile heavy-lift cargo facility in the nation and is the first of its kind in North America.  
Strategically located in the heart of New England on the Atlantic Coast of the United States, the Terminal has easy access to open water and is in a prime position to take advantage of both domestic and international shipping opportunities.
Leasing and docking space at the New Bedford Marine Commerce Terminal is currently available. 
Latitude 41° 37' 23" N Longitude 70° 54' 50" W 
Video: Construction, specifications and location details for New Bedford Marine Commerce Terminal (4m 30sec)
Advantages of shipping through the New Bedford Marine Commerce Terminal
Located within the Port of New Bedford, home to over 200 maritime businesses

29-acre facility, including 21 acres of heavy-lift capacity: uniform loading up to 4,100 psf and crane loads of up to 20,485 psf

1,200 feet of bulkhead, including 800 feet of deep draft berthing and 400 feet of barge berthing space

Within the most protected port in the U.S., the U.S Army Corps Hurricane Barrier guards against storms up to Category 3 hurricanes 

Easily accessible and less congested than other nearby ports

No height restrictions on site, and no overhead restrictions from the Terminal to open water

Easy roadway connections to interstate highway system via I-95 or I-495 (via connections through New Bedford Route 18 and MA Route 140 and/or Route I-195)

No Harbor Maintenance Tax
Capabilities
High Loading Capacity
The New Bedford Marine Commerce Terminal's high capacity quayside is supported by a system of cellular cofferdams, a pile-supported marginal wharf and geotechnical-component, and dense graded aggregate pavement that allows for heavy uniform and concentrated loads.
Whereas many ports have a small quayside area specifically designated as the single hard point, over 21 acres of the New Bedford Marine Commerce Terminal's Main Terminal site has the ability to sustain uniform loads of 4,100 pounds per square foot (20 metric tons per square meter) and concentrated loads of up to 20,485 pounds per square foot (100 metric tons per square meter). This loading capacity allows for massive mobile cranes and self-propelled modular transporters (SPMTs) to operate throughout the site, increasing the efficiency of the work and providing logistical flexibility.
The highest uniform load capacity cargo facility quayside on the East Coast, the Terminal is capable of supporting a 1,350 metric ton crane lifting a 500 metric ton load at 30 meters along the entire 1,000-foot (305-meter) new bulkhead and throughout the more than 21-acre main facility.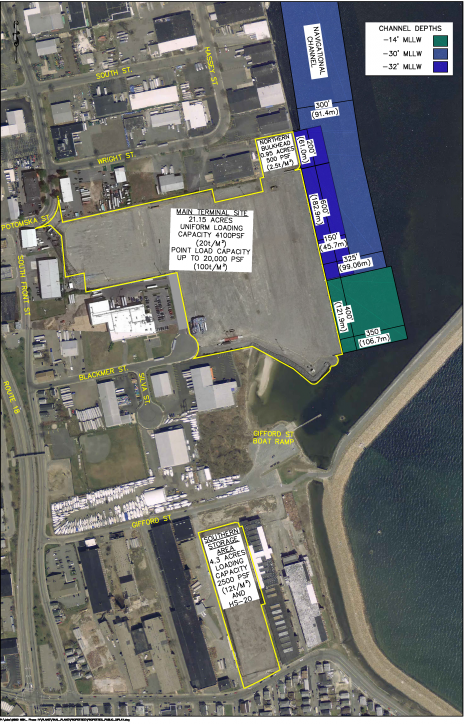 Specifications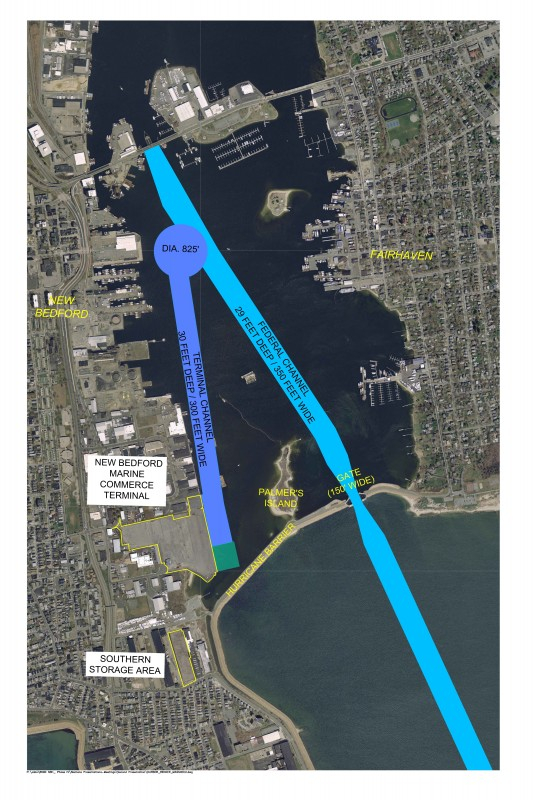 Navigation
The Terminal has no on-site height restrictions and no overhead restrictions on the route from the Terminal berth to open way in Buzzards Bay. 
Tidal Range: 4 feet, on average
Distance Pilot Station to Berth: 30 nautical miles, 2 hours
Controlling Depth of Federal Channel: 28.6 feet MLLW
Controlling Depth of Terminal Approach Channel: 30 feet MLLW
Under Keel Clearance: 10% minimum
Vessel Parameters
The Terminal can accommodate the vessel sizes listed, subject to acceptance by the Northeast Marine Pilots Association.
The Pilots will consider large vessels equipped with dynamic positioning on a case-by-case basis. 
| With Bow Thruster | Without Bow Thruster |
| --- | --- |
| LOA: 550 ft (167.6 m) | LOA: 475 ft (144.8 m) |
| Beam: 80 ft (24.4 m) | Beam: 75 ft (22.9 m) |
| Draft: 28.5 ft (8.7 m) | Draft: 28.5 ft (8.7 m) |
| Berth | Length | Depth |
| --- | --- | --- |
| Main Berth | 600 feet | 32 feet MLLW |
| Northern Berth | 200 feet | 32 feet MLLW |
| Southern Berth | 400 feet | 14 feet MLLW |
| Total Berth Area | 1,200 feet of bulkhead | N/A |
Berth Area
Berthing: Starboard side (bow first) 
Bollards: Main Berth and Southern Berth: 50-foot spacing, alternating 50 ton and 200 ton bollards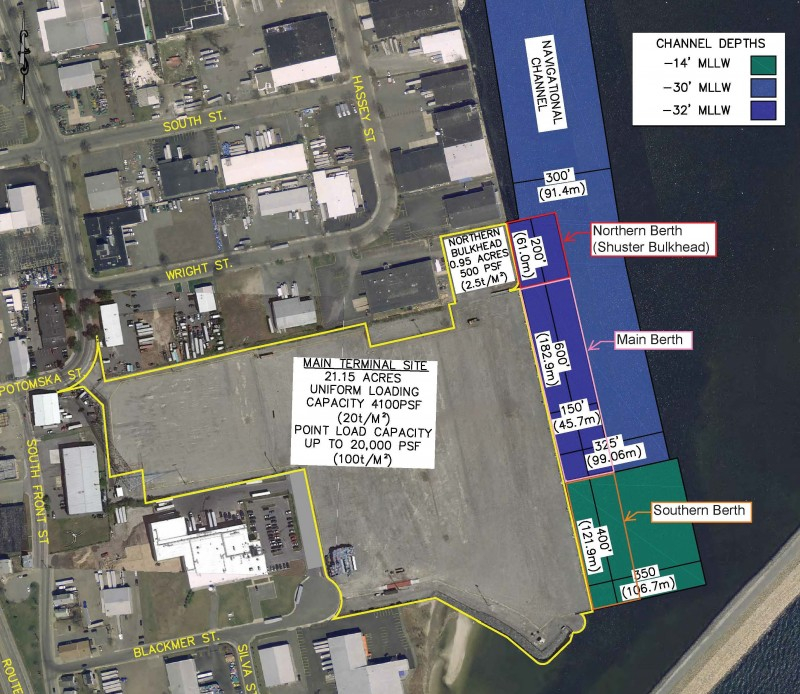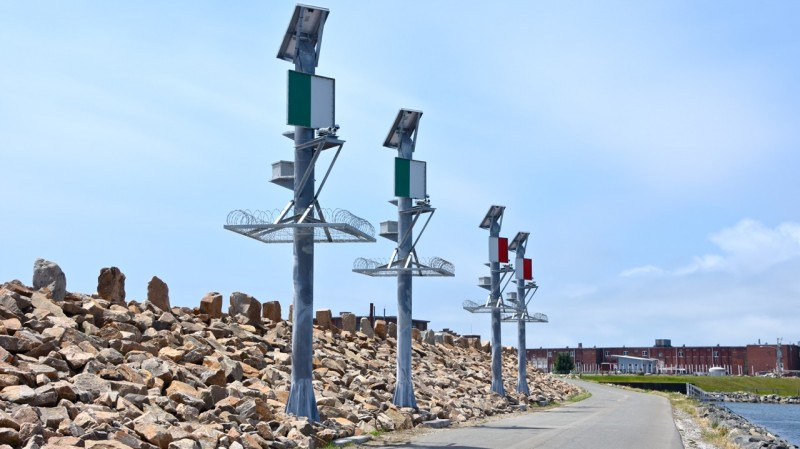 Additional Terminal Features
Ship-to-shore power outlets along the bulkhead

Expandable electrical system, including a 3,000 amp, 480/277V, 3 phase, 4 wire system

Fire protection, potable water and waste water disposal capabilities

State-of-the-art Vega sector lights installed along the hurricane barrier to enhance vessel navigation

Work and security level lighting allow for around-the-clock activities within the Designated Port Area

U.S. Coast Guard regulated, secure maritime facility

750-ton mobile crane locally available
Services
Crane and Equipment
The Terminal has been designed to provide freedom of movement for very large crawler cranes across the entire 21-acre main facility and along the entire 1,000-foot new quayside.Customers shall rent/provide their own crane and other equipment services.MassCEC can provide a list of local crane, rental and equipment companies upon request.
Stevedoring
MassCEC does not provide stevedoring services at the Marine Commerce Terminal.  Customers are welcome to utilize any stevedoring company, pending execution of the Stevedoring License and evaluation by MassCEC that that stevedore is in good standing.  MassCEC can provide a list of the Terminal's Licensed Stevedores upon request.
Forms & Resources
Tariff Schedule
Docking at the New Bedford Marine Commerce Terminal is subject to MassCEC's Tariff Schedule:
New Bedford Marine Commerce Terminal Tariff Schedule No. 1 April 2016
Forms and Applications
Submit all forms and applications to Jeannie Houde, Terminal Manager. 
Security
High mast lighting provides illumination for the entire main facility, and the site perimeter is lined with an 8-foot tall chain-link fence, capped with three-strand barbed wire. Locked gates are available at the Potomska Street and Blackmer Street entrances. MassCEC provides security staff for foreign-flagged vessels visiting the Terminal (see published tariff schedule for more information) in compliance with 31 CFR part 105.
As a MARSEC facility, MassCEC cannot accommodate unscheduled visits to the Terminal.  To schedule a tour of the Terminal, please contact Tim Griffin, Terminal Director. Normal business hours for the Terminal are 8:00 AM to 4:00 PM, Monday through Friday. 
Northeast Marine Pilots Association, District 3
Northeast Marine Pilots, Inc.
243 Spring Street
Newport, RI 02840
http://www.nemarinepilots.com/
*Please contact Terminal Director Tim Griffin before making an inquiry to the Pilots about bringing a vessel to the Terminal.
U.S. Customs and Border Protection
Port of Entry
37 Second Street
New Bedford, MA 02740
(508) 994-5158
Port of New Bedford
New Bedford Harbor Development Commission
52 Fisherman's Wharf
P.O. Box 50899
New Bedford, MA  02740
(508) 961-3000
United States Coast Guard
Sector Southeastern, New England
(508) 999-0072