Image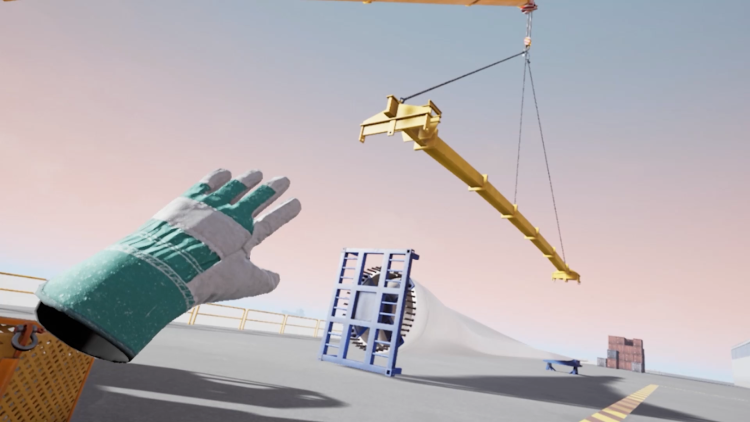 We often understand the coming offshore wind boom through statistics, but have we thought about what those numbers really mean? How big is a 14-megawatt turbine, really? What is it like standing on top of a 300-foot turbine (30 stories)? What does it mean to train 77,000 new workers nationwide in the next few years - many of whom have never seen a turbine outside of a textbook? 
Training for offshore wind requires specialized skills and focus. In addition to the complex technicalities of installing, operating, and maintaining turbines, workers must do so safely in difficult environments. Each of the thousands of new workers need realistic training, as early and as frequently as possible. 
One challenge for the U.S. offshore wind industry is the difficulty and costs associated with setting up training facilities. Nacelles—the structure at the top of a wind turbine tower holding mechanical and hydraulic equipment and to which the blades attach—weigh north of 640 metric tons, making them difficult to store safely in a facility.  There are only seven operational offshore wind turbines in the country (two in federal waters off the coast of Virginia, and five just off Block Island in Rhode Island state waters). This means workers for early U.S. projects will likely have to fly to Europe for onsite training. For disadvantaged communities, which already face significant barriers to workforce participation, these location-specific challenges may further restrict career opportunities in the industry.
Virtual Reality for Offshore Wind Training
To help solve this issue, we at VinciVR, in partnership with Siemens Gamesa Renewable Energy and with grant funding from the Massachusetts Clean Energy Center (MassCEC), are developing simulated environments–nacelles, wind farms, and ports—utilizing Virtual Reality (VR) technology.  These simulated environments will be used to provide highly technical and realistic offshore wind training to future workers in this emerging industry. Vinci, a Massachusetts-based VR company, has extensive experience developing similar VR training for the US Air Force and Special Operations units.  This military personnel training faces similar challenges to those in offshore wind (e.g., limited access to equipment, worksite hazards, and/or difficult access to on-site training). Siemens Gamesa is the leading provider of offshore wind turbines, and its facility in Orlando, Florida, facilitates all training across operations in North and South America for the company.
VinciVR Offshore Wind Demo
Together, we are developing a true-to-scale VR simulation of an offshore wind nacelle to teach the Global Wind Organisation (GWO)-certified Basic Technical Training (BTT) module for offshore wind installation. This training program enables trainees to identify if a turbine has been properly installed and tag any defects with the installed equipment. We are also developing a virtual port facility to support the GWO Slinger Signaller training, which allows trainees to practice rigging, inspecting, and directing a crane moving around various loads, like wind turbine blades. Both GWO training modules target high risk tasks during the turbine installation process while driving as much familiarization and movement in trainees' respective environments. These environments are rendered in portable Oculus Quest VR headsets, which provide visual immersion and full body tracking. Each of our organizations brings a unique expertise to this project; Siemens Gamesa brings seasoned technicians, subject matter expertise, and experience with passing GWO audits, and Vinci provides strong technical capabilities and experience to develop effective training simulations.
The Impact of VR on Offshore Wind Training Outcomes
Our goal is to not only develop GWO-certified VR training tools, but also to catalyze a fundamental shift in training dynamics for the offshore wind industry. While VR cannot replace all on-site training, it has the strong potential to alleviate or replace enough of it to make training more cost effective and accessible than it currently is.
We also aim to improve the diversity of the workforce. VR leverages the near infinite scale that software enables—anyone with access to a portable VR headset can participate in quality, hands-on training in a realistic environment. This not only puts  training within reach of disadvantaged communities, but it can also excite and inspire communities that would otherwise not consider a career in the offshore wind industry.  What better way to inspire the youth for the future than to let them see it firsthand?
Every Classroom, Every Student
While we are currently developing training for just two GWO modules, our long-term vision is to create a library of training content and environments open to other GWO course providers, and potentially other technical training for offshore wind.  We also see exciting opportunities to make offshore wind VR simulations available to the general public interested in learning more about offshore wind installations. Our vision is to bring a nacelle to every classroom, a wind farm to every school, and a passion to learn and build in every student and trainee.