Image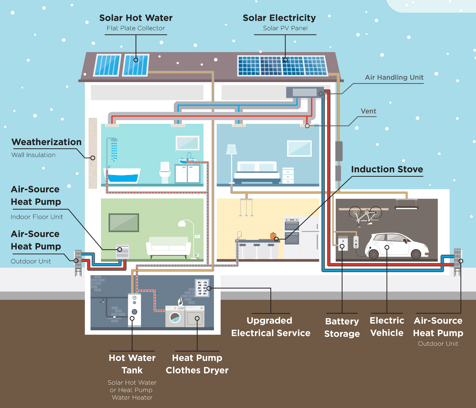 Amid a worsening climate crisis and Massachusetts' 2050 net zero emissions target quickly approaching, reducing greenhouse gas emissions from existing buildings must be an urgent priority both at MassCEC and across the Commonwealth. Massachusetts' 2.5 million buildings currently make up 27% of the state's fossil fuel emissions. To address this major source of emissions, MassCEC is prioritizing the creation of high-performance, energy-efficient buildings now more than ever.
The Decarbonization Pathways Pilot is one of several MassCEC efforts to ramp up the state's building energy efficiency and put Massachusetts on track to reach net zero by 2050. The pilot will create customized plans for homes to become more energy efficient and fully electrify natural replacement cycles (e.g., convert to a heat pump when a heating system nears the end of its life). MassCEC plans to start out by seeking an initial cohort of around 30 homes, with around 10 spots reserved for households in Environmental Justice ("EJ") communities. We expect to open the application for our Decarbonization Pathways Pilot for two weeks in July. If you would like to be on the list to be notified when the application goes live, please fill out this form.  Participating homeowners do not need to be decarbonization experts. Abode Energy Management will provide technical support services throughout the entire assessment, planning, and implementation process.
All pilot participants will get an initial decarbonization assessment that builds on the fundamentals of a Mass Save® Home Energy Assessment and layers on additional decarbonization measures and efficiency opportunities. For the assessment, Abode will be trying out a new software tool, ZERO, created by a local start-up. We've worked with the company to develop a customizable Decarbonization Pathways Report (see image below) that will take into consideration the specifics of a particular home, as well as the homeowner's plans and goals and generate a tailored decarbonization plan with a roadmap that clearly outlines the pathway to decarbonization. After the assessment, Abode will work with participants to flesh out the details of the decarbonization actions that they plan to take in the coming year, including reviewing quotes and providing expert advice as needed.  
In addition to the technical support from Abode, participants will be eligible for $10,000 to $30,000 in incentives depending on their household income. Given the pilot's high financial incentives and relatively few spots being offered, MassCEC expects a competitive selection process. For the first cohort, we are prioritizing applicants who are likely to move forward with converting their home's heating and cooling to heat pumps and other decarbonization measures within the coming year. While we hope that we have designed a process that will work for any homeowner, with our first cohort we hope to gather data and best practices on implementing energy efficiency and electrification measures. We will also look for a balanced cohort with a diversity of location, heating fuel, house size/style, etc. 
Depending on the outcomes and lessons learned of the first cohort, MassCEC may refine our approach and seek a second cohort. We look forward to opening the application soon and continuing to provide updates as the pilot progresses!