Image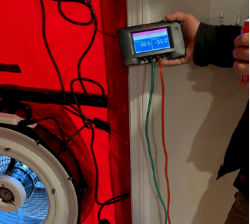 I've been writing monthly blog updates on MassCEC's whole-home air-source heat pump pilot program since it started last May. As with so many things in our lives right now, this blog post is taking a different turn than I expected at the beginning of the month. I was planning to focus on some tweaks we've made in the final months of the pilot. I'll still talk about those changes at the end of the blog, but first I want to focus on how the COVID-19 pandemic has been impacting the air-source heat pump installer community.
COVID-19 Pandemic and Heat Pump Installers
Over the last couple of weeks, our team at MassCEC has been reaching out to installers via phone calls, and last Thursday we sent a short survey to our clean heating and cooling installer email list. 48 installers completed our survey, and we shared the results of the survey back to the installers. If you're interested in the detailed results, you can read the email we sent to installers. At a high level, all companies who responded are seeing a slowdown of their business (if not a complete halt) and many have already had to do furloughs and layoffs. State guidance has deemed HVAC an essential service, but companies are still feeling the impacts. Our email to installers also includes a list of state resources relevant to this industry including information on loans and unemployment, as well as the state's guidance on employee health, protection, guidance, and prevention at construction sites.
Here at MassCEC we've made a few small adjustments to our pilot in response to the COVID-19 restrictions:
We will accept project completion documentation and make rebate payments before projects complete local inspection if it is not possible to complete local inspections at this time.
We will be more flexible about signatures on Participants Agreements. While we still prefer hard signatures or a digital signature that complies with the eSign Act (e.g., DocuSign), if you're having trouble getting a signature on one of our required documents, reach out to us, and we'll try to find a way to be flexible! 
We will automatically extend the project completion deadline for all projects by three months.
MassCEC's staff has gone to remote work, but we're still available and we're still accepting new applications to the pilot, so please reach out with any questions, suggestions, or concerns.
Changes to MassCEC's Whole-Home Pilot
I do still want to talk about changes to the pilot that MassCEC announced on March 4th (was that really this month?):
MassCEC started offering a $500 Blower Door Test Rebate Adder for existing buildings that conduct a blower door test and document some key assumptions about the home. See MassCEC's Blower Door Test Results and a Heat Load Input form for the information that we're looking for. 
MassCEC now requires 36 months of gas usage data.
Detailed information about the new program requirements can be found in the Whole Home Pilot Program Manual.
As I discussed in the September blog, our pilot program requires room-by-room Manual J heat load calculations for sizing whole-home air-source heat pump systems. We've seen some faulty assumptions that have slipped into Manual J heat load calculations, which have had a dramatic impact on the calculation (up to 40%). Even in cases where all the assumptions generally look reasonable, it's impossible to know how leaky the home is without doing a blower door test and leakiness (i.e., air infiltration) can make a significant difference in the overall heat load. So we're offering a $500 adder to projects that complete a blower door test, which should cover most if not all of the cost of the test. Ideally, MassCEC's Blower Door Test Results and a Heat Load Input form would be filled in after weatherization work has been completed, but we are not requiring that any weatherization is completed to get this adder. Our primary goal is to get better insight into how to calibrate heating loads and how much factors like air infiltration could and should impact design.
We have a similar goal in requesting 36 months of natural gas usage for existing buildings; we hope to compare natural gas usage to the Manual J heat load to see if we can draw any insights into heating loads.
For now, due to COVID-19, Mass Save® has temporarily suspended any non-essential work and appointments that require a contracted vendor to enter a customer's home or come in close, physical contact with other individuals at least through April 7, 2020 with an indication that this could last through May 4, 2020 in alignment with the state's school closures. Homeowners can get a blower door test done outside of the Mass Save program, but the Mass Save program is the best way to get a blower door test done in conjunction with weatherization work. As a result, we understand that this might not be the right time for homeowners to take advantage of this new adder. We regret the timing of this new adder, but I am hopeful that some of the discussion and thinking that went into this idea will help inform MassCEC's future efforts in some shape or form, so I would still welcome any reactions people have to our Blower Door Test Results and a Heat Load Input form.
Stay safe and take care of your community.