Image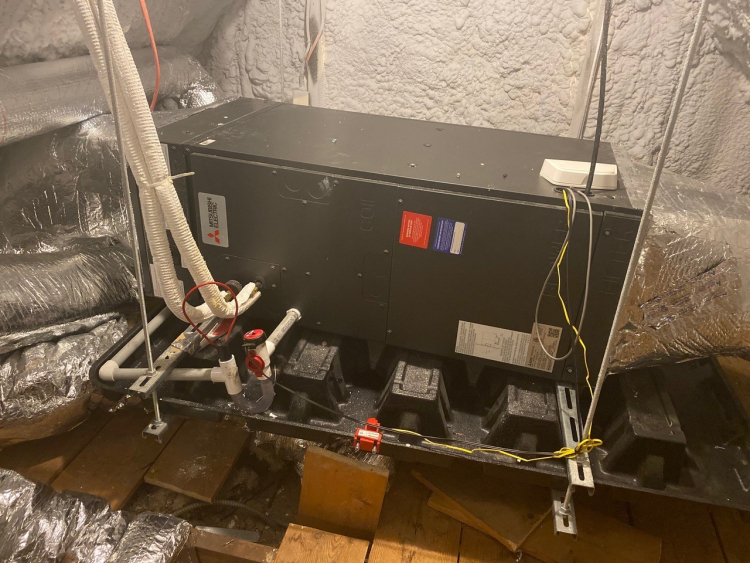 MassCEC's whole-home air-source heat pump pilot program has been running for about eight months now. See our previous monthly blog updates for more information.
We currently have 31 approved projects, with 19 existing building retrofits and 12 new construction or gut rehab projects. We have funding for up to about 150 projects before the pilot ends in June, so we're hoping to step up our outreach in the next couple of months to get a more complete pilot cohort. If you have ideas for potential applicants (either homeowners or developers), please email mhoward@masscec.com.
For this month's blog, I thought it might be interesting to do a breakdown of what kind of whole home solutions we've seen submitted to our pilot so far.
Outdoor and Indoor Units
The projects we've awarded so far have an average of 1.4 outdoor units and 3.1 indoor units (counting a centrally ducted air-handler as one unit). For outdoor units, the majority of projects—for both new construction and retrofit projects—have used multi-head mini-splits, although some of those multi-heads have included compact duct as part of the distribution. We have had five projects install centrally ducted heat pump to serve existing duct work. We have also had one air-to-water project (discussed in our November blog) and one variable refrigerant flow (VRF) project. VRF technology is similar to mini-split technology, but has some additional features and is more often installed in commercial applications.
For indoor units, the majority of projects have used all ductless distribution, followed in popularity by projects with a mix of ductless and ducted distribution. For example, the photo above shows a ducted indoor unit that conditions the upstairs bedrooms and bathrooms in the home of pilot participant Asa Hopkins, while the downstairs space in his home is conditioned with ductless units.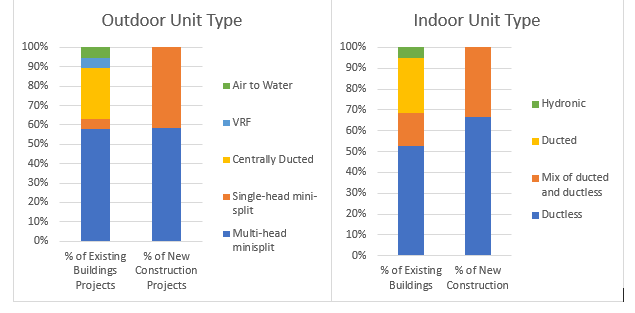 Remaining Questions
I was hoping to share some cost analysis based on indoor and outdoor configurations, but at this point there are still too few data points to point to any clear trends. As I discussed in the September blog, the new construction projects have had lower total project costs than the retrofits, mostly due to the lower loads and therefor smaller systems. This trend is still holding true with an average new construction project cost of $12,100 and average retrofit project cost of $23,000. In both project types, the cost per ton of installed capacity is higher than what MassCEC saw in our previous air-source heat pump rebate program. In that program, the average cost per ton of capacity (at 5°F) was $3,900 for projects submitted in 2018 and 2019. In this pilot the average cost per ton of capacity (at 5°F) has been $6,300 so far. Some of that discrepancy may be geographic. In our previous program we saw a big range in cost based on location, and many of the whole-home pilot projects (although certainly not all) have been the Boston-metro area which has more expensive labor costs. But that doesn't explain the entire discrepancy, because in our previous rebate programs Middlesex County had an average cost per ton of capacity (at 5°F) of $4,500 for projects submitted in 2018 and 2019. I suspect that designing a whole-home system requires more work from an installer and perhaps customers or installers are more likely to select more expensive options like floor mounted indoor units to ensure that their heat pump solution is an optimal whole-home solution.
I am still hoping that the pilot yields insights into whether there are more affordable building types to retrofit with heat pumps (e.g., homes with existing ductwork or homes that are more open concept) or more affordable design strategies for whole-home heat pump systems. I am going to keep an eye on this question as we get more data in the coming months, and, if we don't have clear trends in the data, I'll look to highlight interesting case studies.
Welcome to the new decade everyone! I'm excited to see what the '20s hold for heat pumps.