Image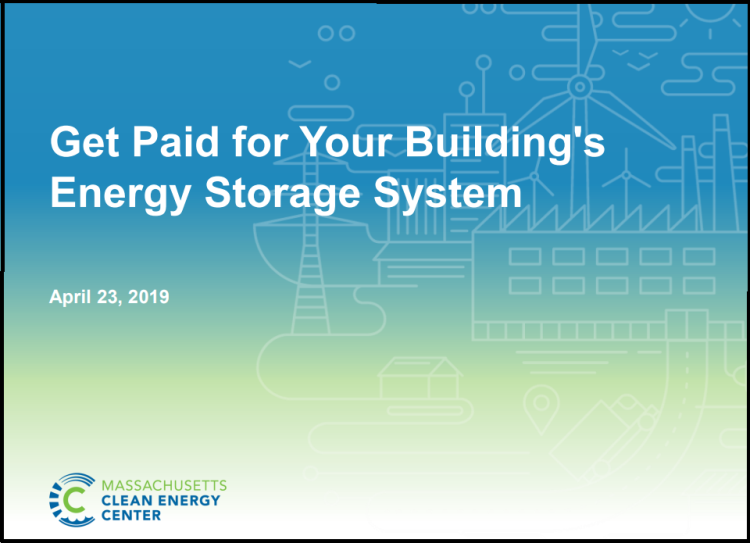 Massachusetts Governor Charlie Baker has said that energy storage has the potential to "reduce costs for ratepayers and help create a clean and resilient energy future." To capitalize on this potential, Massachusetts has rolled out the first statewide energy storage demand response program in the nation.
Energy storage offers reliability, flexibility, and efficiency of usage, which makes it easier to integrate clean energy sources in the electrical grid system. Energy storage encompasses a range of technologies that use mechanical, chemical, or thermal processes to absorb energy, store it, and then dispatch it as useful. Technologies include batteries, capacitors, flywheels, compressed air energy storage, pumped storage, hydrogen storage, and heating and cooling energy storage.
As Governor Baker highlighted, storage deployment has the potential to deliver huge savings to Massachusetts ratepayers by reducing energy costs, the cost of peak capacity, the cost of ancillary services, wholesale market costs, transmission and distribution costs, and costs associated with the integration of distributed energy resources.
To encourage participation in Massachusetts' new energy storage demand response program, we recently co-hosted a webinar with National Grid and Eversource on Tuesday, April 23, 2019. Installers, communities, industry stakeholders, and others were invited to learn about the whats, whys, and hows of this groundbreaking program from the two largest utilities in the state.
The webinar outlines a pay-for-performance program available to both commercial and residential customers. Mass Save offers 30-60 events per summer in which customers must participate for 2-3 hours per event. The following incentives will be available for the next five years:
Commercial and industrial customers can participate in the Daily Dispatch program, designed for battery projects that have relatively low costs of controls and special metering. This program is technology and vendor agnostic. In the summer, National Grid participants receive $200/kW and during winter events, customers receive $25/kW. Customers who install solar for this program are eligible for the SMART battery adder as well.
The National Grid residential option has four approved battery vendors: Pika Energy, Sunrun, Tesla, and SolarEdge with Sonnen coming soon. In the summer, customers receive $225/kW and during winter events, customers receive $50/kW. Residential customers may also take advantage of the HEAT loan, which is a zero-interest loan with a term of up to 7 years.
For questions about the content presented in the webinar, contact:

| Name | Company | Email | Phone Number |
| --- | --- | --- | --- |
| Roshan Bhakta  | Supervisor, Energy Efficiency Eversource Energy  | | |
| Austin Brandt  | Senior Power Supply Planner Cape Light Compact | | 508-375-6623 |
| Thomas (Tom) Palma  | Manager, Distributed Energy Resources Unitil  | | 603-294-5172  |
| Paul Wassink  | Senior Engineer, Demand Response Program Manager National Grid | | 781-907-2681  |
| | MassCEC | | |