Image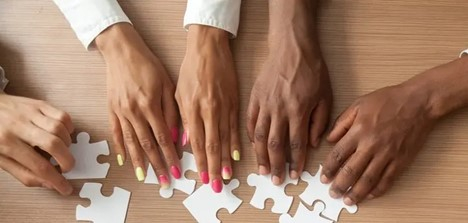 The EmPower Massachusetts Program (EmPower) program team is excited to continue highlighting the accomplishments of our awardees through project spotlight articles. Today's spotlight is on the Community-Led Solar Photovoltaics (PV) in Boston project led by the organization Energy Allies, which won an EmPower Implementation grant. The Community-Led Solar Photovoltaics project will expand access to clean energy in Dorchester, Mattapan, and Roxbury, reduce energy costs, and create local jobs, all while being guided by community input. 
Energy Allies, formerly Solstice Initiative, is a nonprofit organization centering (intentionally and meaningfully including or giving access to) climate-impacted communities (communities disproportionately impacted by climate change) through clean energy projects, policy advocacy, and education in Boston, MA and Buffalo, NY. Energy Allies co-designs clean energy projects led by and for communities. By centering  climate-impacted communities in clean energy project development and access, policy advocacy, and education, they believe that one day everyone will have access to clean energy regardless of race, ethnicity, or economic status. Energy Allies projects, including this Project, largely focus on community-led solar, a form of community solar that centers the voice of the community in each project. 
A key aspect of the Energy Allies community-led project model is the intentional leadership of a Community Advisory Board ("CAB"). The CAB is a collective group of paid community members and organization representatives that participate in gatherings to identify community insights and vote on decision-making for local solutions, and thus includes 11 people that have a passion for energy, justice, and environmental equity (a country, or world, in which no single group or community faces disadvantages in dealing with environmental hazards, disasters, or pollution). Over the course of the Project, members of the CAB have included representatives from the following organizations in Massachusetts: Bikes not Bombs, Communities Responding to Extreme Weather, Fairmont Indigo CDC Collaborative, TSK Energy Solutions, Renewable Renegades, Compass Working Capital, Mobius Community, Rested Root Corp, ReVision Energy, as well as Dorchester residents.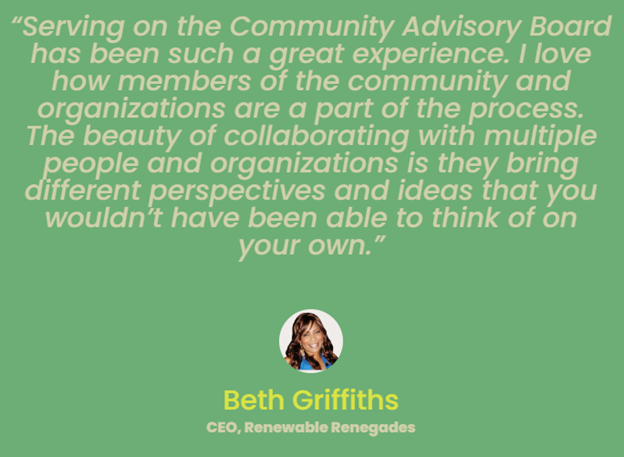 The CAB is also starting to collaborate with Co-op Power Boston CEC ("Co-op"), an emerging organization that will be a consumer-owned sustainable energy cooperative. The Co-op creates multi-class and multi-racial clean energy movements.  The CAB voted that Energy Allies and Co-op are heavily aligned with similar missions and goals and will team up.   
ENERGY ALLIES COMMUNITY-LED SOLAR PV IN BOSTON
This project received funding from the EmPower Mass Implementation Grant Opportunity, which awards funds to implement innovative program models or projects such as community led clean energy projects for underrepresented communities. Energy Allies and the CAB are co-developing a community-led solar PV project expected to produce up to 200-400 kilowatts (kW) of energy capacity, enough energy to provide clean energy to up to 100 homes in the area. Once installed, the solar PV   project will cut energy costs for residents and help create a community of clean energy users in the heart of Boston. The project will specifically serve the communities of Dorchester, Roxbury, and Mattapan, which are Boston neighborhoods with a high percentage of low-income residents and people of color. Dorchester, Roxbury, and Mattapan have a higher-than-average energy burden, which is defined as percentage of gross household income spent on energy costs.  
A community-led solar PV project requires a significant amount of work, communication, time, and collaboration in order to ensure that the project considers community voices. That's why Energy Allies has a CAB, which ensures that the people most impacted have a voice by collaborating with members of the community and other organizations. Energy Allies has been meeting with the CAB ensuring regularly to discuss the project. The CAB focuses on three focus areas tasks: Workforce Development, Community Engagement, and Siting, all critical aspects of the development process.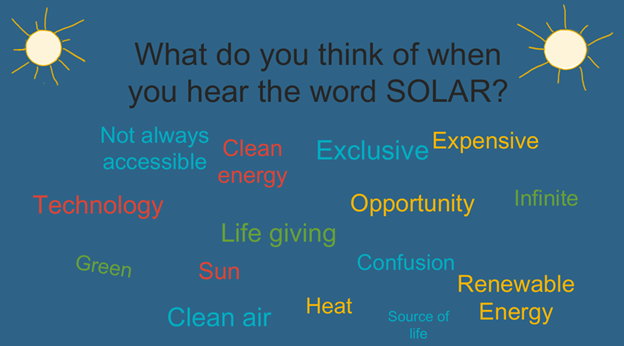 CAB KEY TASKS & PROGRESS TO DATE
The Project launched in 2022 and since then has held many conversations with the CAB, siting owners, and residents. They also created an engagement and outreach plan focused on community education. Each priority focus area team has made significant progress – learn more below! 
Community-based job creation is a focus area for this project. And this team intends to prioritize local hiring from previously excluded communities to create wealth-building opportunities from the solar industry. To help stay local and hire diverse candidates, the project will recruit from schools, community groups, job fairs, and other community-based places. The CAB is planning on creating requests for proposals to seek applicants for positions in engineering, construction work, and procurement. The next step of this team is to hire a community engagement coordinator to canvas through neighborhoods and talk about the project and goals. 
Below is an example of of the decision making process of the workforce development team:
The community engagement team focuses on effective communication with the community to spread awareness of the project and talk about clean energy and justice. To guide this work, the project team developed a Community Engagement strategy that aligns with their values and details their comprehensive plan.  Their promotional strategy consists of three goals:  
Connect and build access and trust within the community through digital storytelling, newsletter content, and online presence. 
Mobilize by partnering with community organizations to share resources, and that would include in-person and virtual events. 
Enhance by transforming clean energy by centering their project and goals around empowering the community and putting traditionally excluded communities at the forefront. They plan on reaching people through flyers and newsletters that detail the project, also hosting virtual workshops, in-person workshops, and tabling at local community events. Also, they will utilize local news outlets that are in Spanish and English to ensure that everyone has access to the details of this program. Success will be measured with engagement metrics such as the number of events hosted, number of event attendees, community members engaged, partnerships created, and materials created. 
The siting working group focuses on finding a project site that aligns with the values of the community. One of their first and critical topics for discussion was the method of project ownership to decide if the project should be owned by a third party, the community, or a transitional approach moving from third-party to direct community ownership. The CAB voted for the project to be a community-owned model, which is the model that will most likely ensure that the community will directly reap the benefits.   
Finding a site to host the project that is both mission-aligned, and large enough for such a large project is challenging. Through direct connections and other forms of outreach including mailers to potential site hosts date, the team has identified about 150 potential sites. Each potential site must be evaluated based on their prioritization of community needs and benefits.  
The project team will continue their focus on engagement including developing outreach materials and communicating with the community about their revamped plans to seek member owners for the Project. A priority of the Project team is accessibility so that the entire community to learn about the energy benefits. During the upcoming month's events and promotional efforts, they will use a variety of methods to   give residents information on the project. The CAB is also working on creating a specific targeted list of residents to prioritize for receiving energy credits. The property list will be households experiencing high energy burden rates, mission-aligned organizations, households receiving services from mission-aligned organizations, low-income households not receiving reduced energy rates, households living in environmental justice areas, and households living in income-restricted housing. Alongside engagement and outreach to seek member owners, the Project team will continue to search for available sites in Dorchester, Roxbury, & Mattapan.  
WHAT'S NEXT FROM EMPOWER? 
What's coming next? Look out for our future posts to highlight the progress and experiences of more of our awardees and their projects. Do you have thoughts on what else you'd like to see MassCEC do with the EmPower Program? We encourage readers to contact our team with questions or suggestions or to be added to our EmPower email list. You can email us at empower@masscec.com.