Image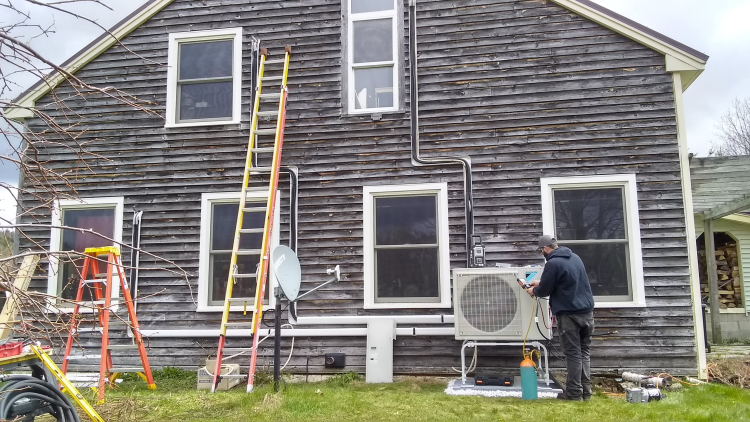 As MassCEC begins accepting applications to the second cohort of our Decarbonization Pathways Pilot, we wanted to share some updates on the first cohort. The goal of the pilot is to test a protocol for decarbonizing existing homes. MassCEC will provide homeowners with a plan to achieve an all-electric building (i.e., a building with no on-site combustion equipment for fossil fuel use or capacity, including fossil fuel use in space heating, water heating, cooking, or drying appliances) while maximizing opportunities for energy efficiency and weatherization. Each pilot participant had a home decarbonization assessment where they received customized recommendations and worked with the assessor from Abode Energy Management to create a roadmap for how to decarbonize their home. See the image below for one page of an example decarbonization roadmap. Participants are also eligible for $10,000 to $30,000 of incentives (depending on household income) to take action during the next year.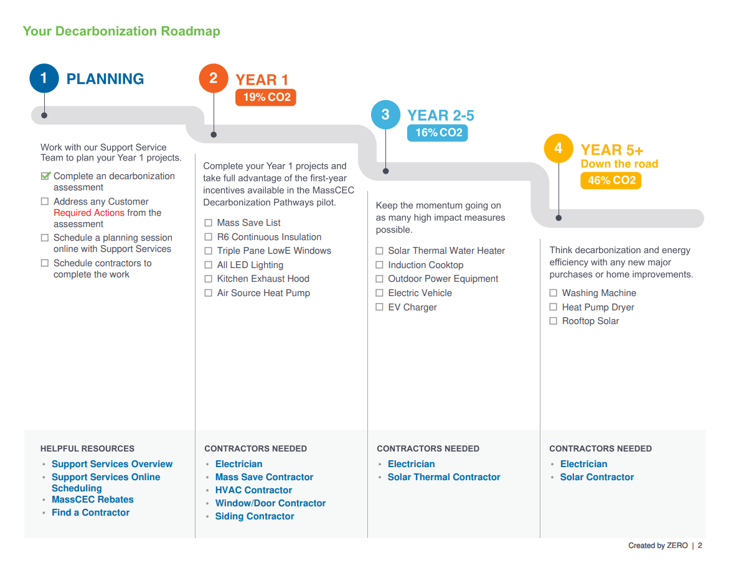 Cohort One Timeline
MassCEC accepted applications for the first cohort in July 2022. We received 351 applications for around 30 spots. During the month of August we selected the cohort, aiming for a diverse cohort based on income, geography, home age, fuel type etc.; we prioritized applicants that were planning to install heat pumps in the coming year because we wanted to work with pilot participants as they transitioned their heating - a major part of a typical home's energy use.  In particular, MassCEC wanted to work with households of varying income levels in this pilot because we wanted to design an approach that works for households with different levels of resources. Additionally, there are existing income-based incentives and MassCEC wanted to work with these different existing programs for our pilot. See the image below for the location of the participants of the first cohort.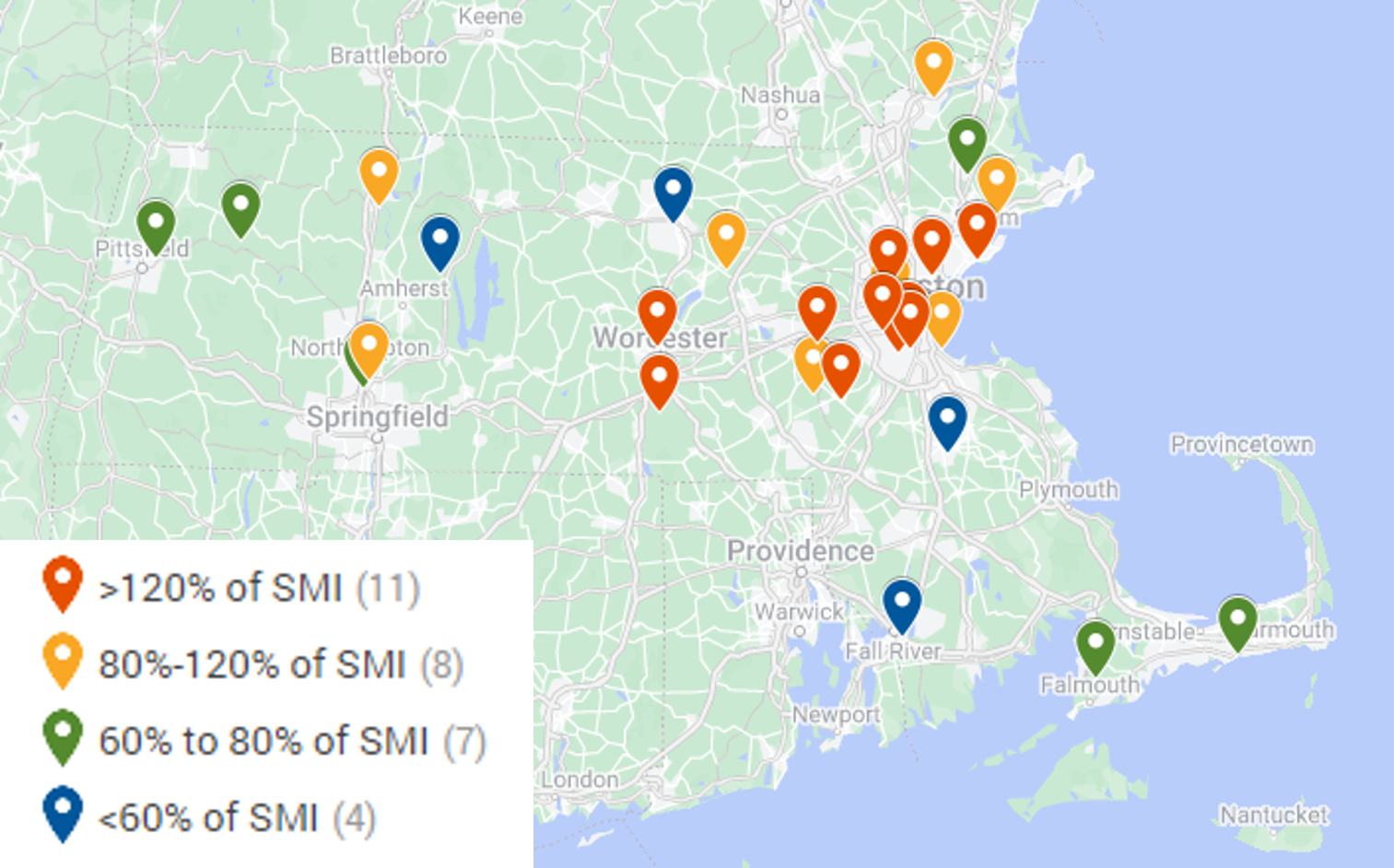 From September through December 2022, Abode conducted the initial home decarbonization assessments and worked with each homeowner to create a custom plan. Since then, participants have been working on getting quotes and completing various decarbonization projects. These projects are still in process, so we do not have final data on which home improvements participants completed, costs, etc., but we're hoping to share additional updates and case studies in the future.  
Putting together the Puzzle Pieces on Home Decarbonization
For today, I want to highlight one initial takeaway for me: decarbonizing an existing home is complex! Electrifying and weatherizing a home involves many little (and some big) projects, which can be a lot for a homeowner to navigate, especially when the projects are interdependent, like weatherizing your home to install an appropriately sized heat pump or upgrading your electrical service to convert to an induction stove. In our pilot, we've seen that incentives have been critical to enabling action but even navigating the incentives adds to the complexity. 
The Decarbonization Pathways pilot built on the framework of Mass Save's Home Energy Assessment, which has been refined over years to standardize a home visit that covers weatherization and energy efficiency options. In recent years, heat pumps have become an increasing focus of Home Energy Assessments, but to tackle comprehensive decarbonization, our pilot added the following topics:
Assessment of home's electrical infrastructure/need to upgrade
Blower door testing
Deeper envelope upgrades
Increased focus on heat pumps, including Manual J heat load calculations where appropriate
Increased focus on ventilation
Electric vehicle charging
Solar/batteries
Appliances: Cooking, hot water, dryer, outdoor power equipment
Health/resilience checklist
All of that is a lot to cover in one home visit! For the first cohort, these home visits took an average of 4.7 hours. For the pilot, we had an engaged cohort that was willing to spend the time, but we recognize that not everyone will be willing or able to spend that long on a home visit; visits also use a significant amount of the assessor's time. Beyond the initial visit, Abode makes an average of 13 recommendations per home with about 9 recommendations for the pilot year (although we wouldn't expect that value to be representative since we selected for participants that were ready to act and provided time-limited incentives). Even for many of the pilot participants, it has been a challenge to get quotes and move forward with this many home improvement projects. 
MassCEC's Approach to Streamlining Home Decarbonization
For the pilot, we're taking several steps to support homeowners in navigating the complexity of home decarbonization. First, MassCEC, Abode, and our software partner Zero, designed the decarbonization report to be informative and user friendly with input from the behavioral science firm ideas42. During the pilot, Abode has also been working on developing templates for more detailed guidance, when necessary. After the initial home visit, Abode is offering "decision time support" which means that homeowners can call or email Abode when they're ready to take action but have a question. As an example, Abode offers a heat pump quote comparison to help participants make the best decision in selecting a heat pump installer and design. To help homeowners navigate decarbonization, MassCEC also offers a comprehensive set of informational resources on our Clean Energy Lives Here website. Our hope is that – similar to decision time support – homeowners can refer to these resources as they're making specific decisions, rather than trying to absorb everything in a single home visit. Abode did a couple of virtual assessments in the first cohort, and we will continue to explore opportunities to effectively leverage remote visits and tools to save time for the second cohort.
Scaling Home Decarbonization
MassCEC's experience with the Decarbonization Pathways Pilot so far supports the need for some type of decarbonization "clearinghouse," as proposed in the state's Clean Energy and Climate Plan for 2050, to serve as a central hub for a variety of decarbonization-focused programs. Abode has been playing this role for the participants of the Decarbonization Pathways Pilot, and their support at every step of the way has been critical to making these pilot projects move forward. The state is still evaluating options for the structure of this type of clearinghouse and plans to settle on a path forward in 2024. The Decarbonization Pathways Pilot will serve as one important test case to inform the best path forward to support home decarbonization. 
If you have ideas about how we can minimize the complexity of home decarbonization, email us at buildings@masscec.com. And if you'd like to be notified of future pilot updates, you can sign up here.