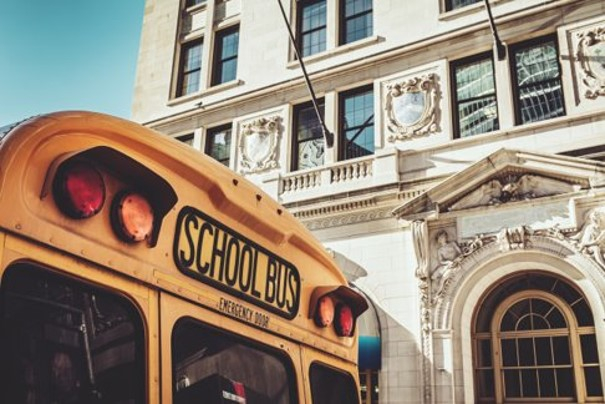 The ACT School Bus program is deploying $18.3 million to advance school bus fleet electrification by providing planning and support to Massachusetts public school districts. Two program opportunities are currently available: Advisory Services and Fleet Deployment. MassCEC has retained two separate technical consultant teams to support these efforts.
ACT School Bus programming complements the federal Environmental Protection Agency's Clean School Bus Program. In May 2023, MassCEC issued a Notice of Intent (NOI) to notify potential applicants of MassCEC's objective to administer a second round of the ACT School Bus Fleet Deployment Program. The NOI provides tentative information about Program goals, timeline, and eligibility requirements, and will give potential applicants an opportunity to provide feedback. Please note that MassCEC is not seeking applications at this time.
Please continue to monitor both the ACT School Bus and EPA Clean School Bus webpages for timeline updates on future rounds of programming.
Which program is right for my school district?
Advisory Services
Up to 25 school bus fleets will receive free electrification planning services under the ACT School Bus Advisory Services Program.  This program does not provide funding to buy electric school buses.  Rather, it provides technical services to public school districts and/or third-party school bus fleet operators, including
Preparing for future funding opportunities
Feasibility designs
Financial modeling
Vehicle and charging station procurement plans
Educational materials
Fleet Deployment
The ACT School Bus Fleet Deployment Program offers to each selected school bus fleet up to $2.5 million in flexible funding for electric school buses and associated infrastructure.  Selected school districts also have the opportunity to work with MassCEC's hired technical consultant team. Services offered by the technical consultant for school districts include
Assistance with the electric school bus procurement process
Electric vehicle supply equipment (EVSE) charging infrastructure selection, procurement, and installation
Recommendations for depot upgrades
Data collection on electric school bus performance
Plans for future electrification
Program Schedule
| Program Stage | Timeframe |
| --- | --- |
| | December 2022 |
| Advisory Services Program: Application Period | Rolling: to be considered for Round 1 of selection and recruitment, fill out interest form by July 1. |
| Advisory Services Program: School District Selection and Project Launch | Beginning Summer 2023 |
| Fleet Deployment Program: Round 2 Application Period | Fall 2023 |
All dates are subject to change at MassCEC's discretion.  See respective program pages for more detailed schedules.
FAQ & Additional Resources
Past Awardees
In December 2022, MassCEC awarded funding and technical assistance to six school districts across the Commonwealth under the first round of the ACT School Bus Fleet Deployment Program. 
Program Backgrounds
ACT School Bus
Launched in November 2019, the first round of ACT programming, Accelerating Clean Transportation Now ("ACTNow"), resulted in the deployment of $1.4 million in funding and leveraged over $2 million in external cost share funding across nine clean transportation projects, three of which were school bus electrification grants and six of which reduced air pollution in environmental justice communities. The second round of ACT programming, Accelerating Clean Transportation for All ("ACT4All"), focused on addressing transportation needs and burdens in disadvantaged communities. MassCEC awarded $5 million in funding through this equity-focused program across ten clean transportation projects. Selected projects, announced in February 2022, spanned a range of topic areas including e-bike pilots and EV consumer education and are being deployed in various environmental justice neighborhoods and Gateway Cities across the Commonwealth.
MassCEC developed the ACT School Bus program to complement EPA's Clean School Bus funding, serve as a continuation of the ACTNow school bus projects, and extend ACT4All's equity focus by prioritizing high-needs and low-income school districts.
EPA School Bus
Following passage of the Bipartisan Infrastructure Law in 2021, U.S. Environmental Protection Agency's Clean School Bus Program will provide $5 billion over five years (FY22-26) for clean school bus programming. Under the program, half of the funding is dedicated to zero-emission school buses and half is for clean school buses (including zero-emission, propane, and natural gas buses). Eligible recipients for this first round of funding included state or local governments that provide bus service, contractors who sell or arrange financing for the sale of clean school buses, nonprofit school transportation associations, and tribes, tribal organizations, and tribally controlled schools. EPA prioritized applications from organizations that serve high-need school districts and low-income areas, rural school districts, and tribal school districts. Applications were open via online form from May-August 2022, and applicants were notified of their selection status in October 2022.