Image
MassCEC is extending our whole-home air-source heat pump pilot ! We are now accepting applications through June 25, 2021. So if you have natural gas heating, and you're thinking about making the switch to heat pumps, now is the time. If you have any question please reach out to me!
The pilot launched in May 2019, and so far we have awarded a total of $275,750 to 88 projects out of an available budget of $500,000. Of those 88 projects, 57 are existing building retrofits, 7 are gut rehab projects, and 24 are new construction. See our previous monthly blog updates for more information about the pilot.
For the October pilot update, I'd like to share some updated data on project costs, as well as a new case study.
Retrofit Heat Pump Costs Based on Distribution: Ducted vs. Ductless
In last month's blog, I talked about the overall installed costs we're seeing for whole-home heat pumps, what's driving those costs, and how they compare to alternatives. I suggest you start with September's blog if you're interested in big picture on costs.
For this month, I wanted to do a deeper dive into the cost data for retrofit projects, since most of our projects (57 of 88) have been retrofitting existing buildings from natural gas to heat pumps. Of those projects, 31 use ductless indoor units, 18 use ducted indoor units, and 7 use a mixture of ductless and ducted (mostly compact-ducted) indoor units (plus 1 air-to-water heat pump with hydronic distribution that I'm going to leave out of this discussion, see the November 2019 blog if you want more details on that project). So please remember, we have a very small sample size for the data I'm about to discuss!
Although ductless projects have a lower average installed cost than the ducted cost, the ducted cohort of projects has larger homes on average with heat pumps that are sized to more closely match the load. I think there are two reasons that ducted heat pumps systems are sized closer to the home's heat load: (1) it is easy and cheap to install electric resistance in a ducted system for really cold days, which give the installer and homeowner more comfort in sizing closer to the load, and (2) ducted systems have distribution to every room so there is no need to but oversized heads in small rooms to bring distribution to those rooms.
Because our ducted pilot projects are serving larger homes and matching the load more closely, if you look at the cost of the whole-home heat pump system relative to the home's heating load, ducted and ductless solutions start to be more comparable, although ducted solutions still have a wider range possibly based on the amount of upgrades required for the ductwork. We only have seven existing building projects that have gone with a mix of ducted and ductless indoor units (again a very small sample size!), but the cost for these projects has been high, possibly because they all required some degree of new ductwork to serve new compact ducted units.
Type of Indoor Units

# of Existing Buildings

Average Total Project Costs

Average Conditioned Square Footage of Home

Average Heat Pump Capacity/Peak Heat Load

 

Average Cost per Ton of Heat Load

Ductless

31

$18,158

1353

 

135%

 

$7,560.71

Mix of ducted and ductless

7

$29,871

1675

 

110%

 

$9,763.73

Ducted

18

$21,500

1895

 

104%

 

$7,412.00

Total

57

$21,068

1594

 

121%

 

$7,920.49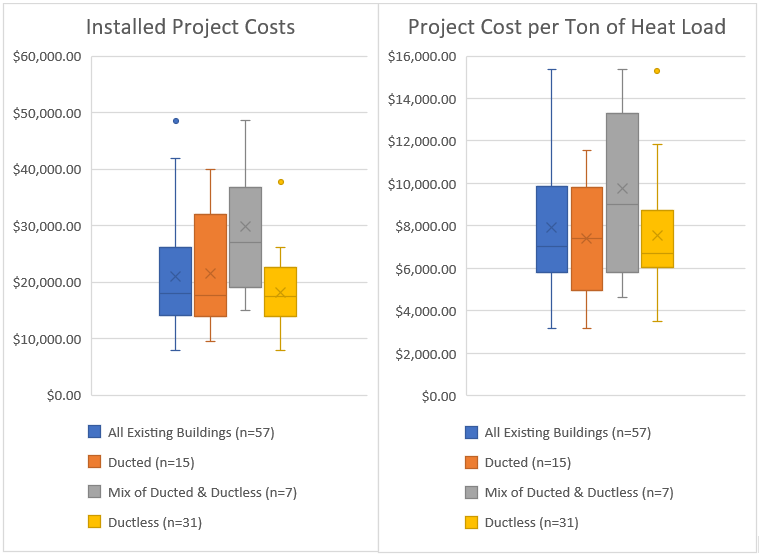 My takeaway from this data is that for homes with existing ductwork that require minimal upgrades (like the case study in last month's blog or the example below), centrally ducted heat pumps can be an cost-competitive solution that serves the whole-home very well. However, even if your home doesn't have existing ductwork, ductless heat pumps may be able to serve your whole-home for a similar cost to a ducted heat pump, especially for the smaller than average homes we have seen predominating in the pilot.  
Project of the Month: Bedford Home with Centrally Ducted Heat Pump
Starting in August and September, I'm profiling one pilot project every month to give readers a sense of what it's like to live with a whole-home heat pump. This month, I want to feature a 3000 square foot home located in Bedford, MA. The home was built in the late 1980s and is well insulated, with quality windows and doors. Working with Mass Save®, the homeowners did some air sealing in the partially finished basement and improved the door stops and door frames. The attic was already fully insulated when they moved in.  
The home had been heated with a natural gas furnace that failed in the fall of 2019. Due to the homeowners' commitment to reducing their greenhouse gas emissions they wanted to switch to an air-source heat pump. They reached out and got five different quotes, which meant that they spent most of the month of October relying on space heaters, but luckily it was a mild fall. They ultimately selected an installer who they thought had a thoughtful understanding of the engineering of a heat pump and how it would interact with their home and lifestyle. They installed a Bosch Bova-60HDN1-M20G centrally ducted heat pump with a capacity of 40,000 btu/hr at 5°F (compared to their home's peak heat load of 38,406 btu/hr). 
Their new central heat pump cost $16,146 installed (before incentives from MassCEC and Mass Save®). This cost does not include the extra cost of the new ductwork. Although they were mostly able to reuse their existing ductwork, they did incur additional cost for some new ductwork in the basement to replace rusted sections and to support both a larger air handler and new service into a bathroom in the basement. While reusing the existing ductwork kept the project costs down, it did mean that they kept a single zone for all three stories. The upstairs, used as a guest area, was minimally ducted and is still hotter in the summer and colder in the winter than the first floor. The homeowners thought that the high cost of re‑ducting the upstairs was not warranted, since these rooms were much less used.
During the winter, the homeowners like to sleep with a cooler nighttime temperature. Although heat pumps can be less efficient when they are recovering from a major setback and are slower to recover from setbacks than gas heating, the homeowners were able to overcome this by programming the heat pump to warm up in multiple stages in the morning, avoiding the need for the electric resistance backup heat that a rapid rise often requires. As a result, the electric resistance backup heat only came on a few times during the winter of 2019/2020. 
One aspect of living with their new heat pump that pleasantly surprised the Bedford homeowners is that their new Ecobee4 thermostat has a feature that circulates air throughout the home periodically.  Over the summer this feature circulated cooler air from the basement throughout the home, reducing the need for active air conditioning.  The Ecobee4 is also accessible through the internet and offers reports on the functioning of all the systems.
For a variety of reasons beyond their control, the homeowners don't have full visibility into their before-and-after utility bills, but their combined gas and electric bills suggest they are probably paying around $50 more per month during the winter than they had been before their heat pump. This increase matches their expectations. Since they purchase 100% renewable electricity, they are happy to have decarbonized a major source of energy in their home. 
This Bedford home is participating in an in-field monitoring effort this upcoming winter, primarily funded by the foundation E4TheFuture, with support from MassCEC and our New York counterpart NYSERDA. This study will help us have a better understanding of the performance of heat pumps used either as the primary or the only source of heat in a home. The study should be coming out in summer 2021.